STONECREST, GA—Seniors from throughout metro Atlanta are getting fit at Samson Health and Fitness Center—at no charge to them.
The 79,000-square-foot Samson Health & Fitness Center is the health and wellness extension of New Birth Missionary Baptist Church, where Dr. Jamal Bryant is senior pastor.
"We are blessed to have the largest, seated senior workout class in Atlanta on Tuesdays and Thursdays, instructed by the amazing DaShaun Johnson, The Guru of Abs," said Melanie R. Render, Samson's director of athletics. "Over 250 seniors attend each class, and we are continuing to grow. We have also recently added free ballroom and line dancing classes weekly. These are just a few of the programs we offer. We are in the process of hosting social gatherings to include paint and sip, movie night, and bingo."
Render said seniors are encouraged to use their wellness benefits forgmorganvvvv fitness classes and programs.
"While we offer all of our classes and programs free of charge to seniors, we encourage them to utilize their wellness benefits when available," said Render. "Many seniors do not understand their gym membership and fitness program benefits. Gym memberships or fitness programs may be part of the extra coverage offered by Medicare Advantage Plans, other Medicare health plans, or Medicare Supplement Insurance (Medigap) plans. We encourage seniors to contact their plan provider to learn more about their benefits."
Samson Health and Fitness Center began offering DaShaun Johnson's Senior Body Sculpting in January 2023. The senior workout class is done from the comfort of a chair. The class is suitable for wheelchair users and all fitness levels. Johnson also offers modifications for seniors with limitations.
"DaShaun is committed to the health and wellness of seniors. He uses his entire platform to not only offer an amazing class, but we also have been invited to various events throughout the city, and we have also taken our seniors to multiple locations to offer another level of engagement," Render said.
The fitness facility also offers Samson Senior Fit, taught by Denise Blount, a nationally-known fitness motivator and nutritionist. Blount discusses the importance of understanding how nutrients are essential to approaching wellness. She has facilitated field trips to various wellness events to enlighten seniors on how eating habits and understanding how our bodies react to certain foods is vital.
"We began the year with a commitment to offering programs to our seniors. One of the main concerns we have following the previous years and due to the pandemic is to create opportunities for seniors to engage," Render said. " We continue to offer programming that will not only allow them to engage socially but to continue to meet their fitness goals. "
Render said New Birth hopes to set a world record with its senior chair fitness class.
"We are in talks with the Guinness Book of World Records to attempt to compete as the largest seated workout in history," Render said.
Workout classes for seniors are held Tuesdays and Thursdays at 9:50 a.m. at Samson Health and Fitness Center, which is located on the campus of New Birth Missionary Baptist Church, 6400 Woodrow Rd., Stonecrest. For more information, call 679-824-1033.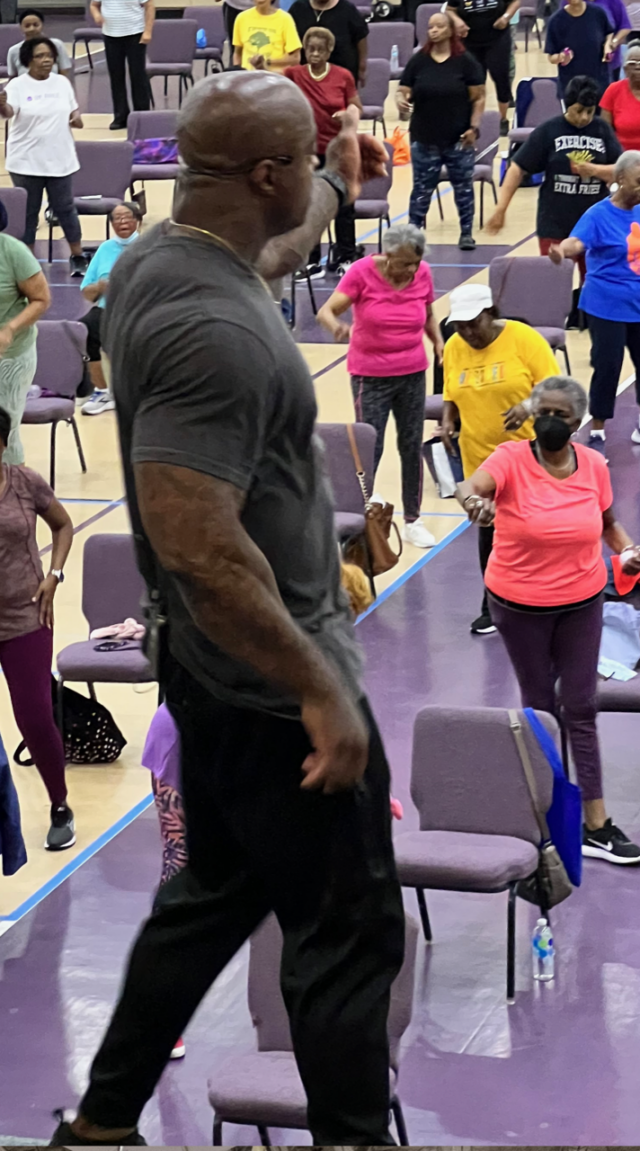 Pictured: DaShaun Johnson, The Guru of Abs, conducts fitness class for seniors at Samson Health and Fitness Center. Photos provided via New Birth Missionary Baptist Church.

Post Views: 756