A "closed" sign outside a Tennessee restaurant has blamed partying servers for shuttering dine-in operations.
The sign appeared outside Rib and Loin, a restaurant in Hixson, Tennessee, on Sunday. The 33-year-old barbecue joint, which has another location in Chattanooga, is a local favorite—but it became famous with a larger crowd when its sign went viral on social media.
"Unfortunately, dine-in will be closed indefinitely due to servers refusing to work their schedules because of parties [and] personal activities and also refusing to work with more than [one] server per shift!" said a blackboard message in colorful chalk. A photo of the sign has amassed over 23,000 votes on Reddit.
"This company will not be told by employees when we can and cannot open!" declared the last line.
Brenda Clark is the General Manager at both Rib and Loin outposts. She told Newsweek the business has struggled, like many other restaurants, to keep jobs filled.
"Unfortunately, we're so short-staffed," she said. "We only had three servers and one of them is a part-time dentist assistant."
According to Clark, the Hixson restaurant has been closed for dine-in since the two full-time servers quit on Saturday. Both employees left their jobs because they were unable to work the required schedule—one needed time off for a 4-year-old's birthday party, while the other put in notice for a Halloween party, said Clark.
"I have worked with them unconditionally with family," she said. "But sometimes, companies need to stay open. We have a duty to the public. I need my other people to have a job."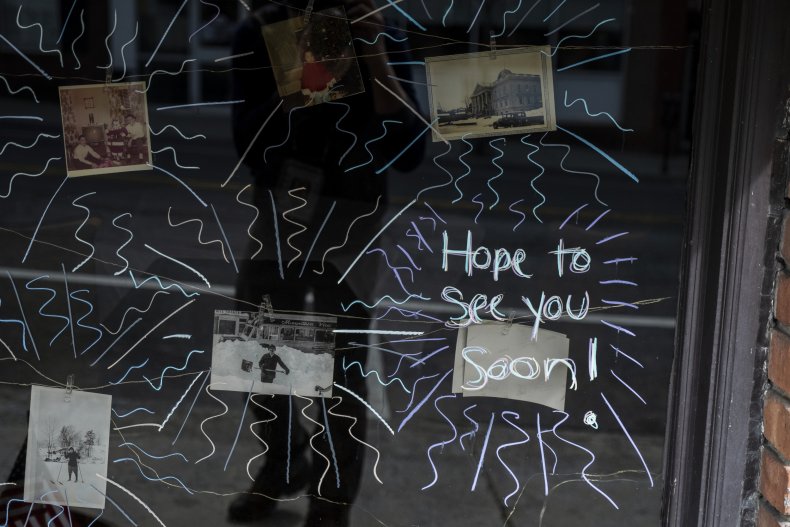 The manager argued that besides detailing the workers' scheduling conflicts, her sign was similar to others across the country.
"It's like every sign in America. Due to the lack of the employees, due to the lack of servers, due to the lack of kitchen help…we cannot be open," said Clark.
After being decimated by the COVID-19 pandemic, the restaurant industry has struggled through a slow recovery dogged by labor shortages. Although job growth continued in September, eating and drinking places were still down 560,000 jobs (or 4.5 percent) from pre-pandemic levels, according to the National Restaurant Association.
Meanwhile, restaurant workers continue to quit in high numbers, citing low pay, the desire for a new career, a lack of benefits and difficult customers, reported a survey from Joblist. Workers in food service quit their jobs at a rate of 6.5 percent in August, more than double the national average of 2.7 percent, according to data from the Bureau of Labor Statistics.
As the Rib and Loin sign went viral, most social media users took the side of Clark's servers.
"Do they not see how entitled they come off as?" asked a Reddit comment with 3,400 votes. "Do they really think their food is that good that people are going to side with them?"
"Driving away even more customers than just a closed dining room," said another user.