Chamber President Matt Baumgartner called it a "transformative milestone for Duluth," Downtown Duluth President Kristi Stokes said it was "historic" and "amazing," and Mayor Emily Larson — in sizing up the opening-this-weekend, $900 million, 18-story, shiny-new St. Mary's Medical Center — said it was "an incredible sign of the progress and confidence we now have as a community."
It may not be possible to fully capture the historic enormity of the completion of a project that forever changes downtown Duluth's skyline, that represents the largest-ever private investment in our city's history, and that ensures the highest quality of health care here for decades to come.
So forgive Gov. Tim Walz who, in an exclusive interview with the News Tribune Opinion page, topped the lofty assessments of the others by stating, "That facility is world class." He also called it "the finest hospital in the country right now."
"Watching that incredible facility, I was proud to see that rise in Duluth. I think it'll be a catalyst for growth in the downtown area," Walz additionally said. "It feels like there's vibrancy in Duluth right now. Duluth's economy needs to thrive for the state to thrive. I think it's a good bellwether up here."
Vision Northland, as the project was called, has been under construction for nearly four years, blocking off streets, inconveniencing patients trying to get to appointments at Essentia, and carrying on in spite of a pandemic.
But oh, does it seem worth it now.
The towering facility rises 340 feet above Superior Street, features 942,000 square feet of space (considerably more than the existing hospital), is expected to be 20% more efficient in energy and water use, and will operate more smoothly. As the News Tribune reported last week, its horseshoe layout includes a bank of 28 elevators, with vertical transport easier on patients and quicker than moving them horizontally. Punching in your destination floor first allows users to be directed to an elevator heading there already, meaning fewer stops en route.
Roaming the hallways of the new hospital will be a fleet of 24 robots ferrying food, linens, garbage, and whatever else needs to be moved and delivered.
Its 344 beds is similar to the present hospital, but nearly all are in private, single-bed rooms. Two units will be able to accommodate families with children.
Its outdoor spaces showcase spectacular views, including of Lake Superior, and there are 105 pieces of art, most by local artists, to help ease what can be stressful moments of medical care and health uncertainty.
In a lesson learned from the pandemic's airborne virus, the building exchanges fresh air about six times an hour, and that can be boosted in operating rooms to about 25 air changes an hour, as the news story reported.
"This is a great day, not only for Duluth but for all the small towns and rural communities across the region," state Sen. Kari Dziedzic, DFL-Minneapolis, said at a July 20 celebration of the new facility. Minnesota senators and representatives provided $100 million in public funding to help make the project happen.
"For 135 years, St. Mary's has been a pillar in this region," U.S. Sen. Amy Klobuchar said at the grand opening and ribbon cutting, according to Essentia. "I'd like to recognize all the health care workers in attendance. Thank you for all you do. … This new hospital will give you the space and the resources to continue your lifesaving work for the community."
Essentia Health employs about 15,000 people. Construction workers put in nearly 3 million hours to build the "breathtaking hospital that will advance health care in Duluth, improve the patient and staff experience, and contribute to the economic vitality of our region — now and for generations to come," as Essentia said in a statement.
St. Mary's is already a five-star hospital, as rated by the Centers for Medicare and Medicaid Services. It features the area's only Level I Trauma Center. With patients finally moving in on Sunday into its breathtaking, latest-technology wonder, its place in Duluth and in health care is assured for decades to come.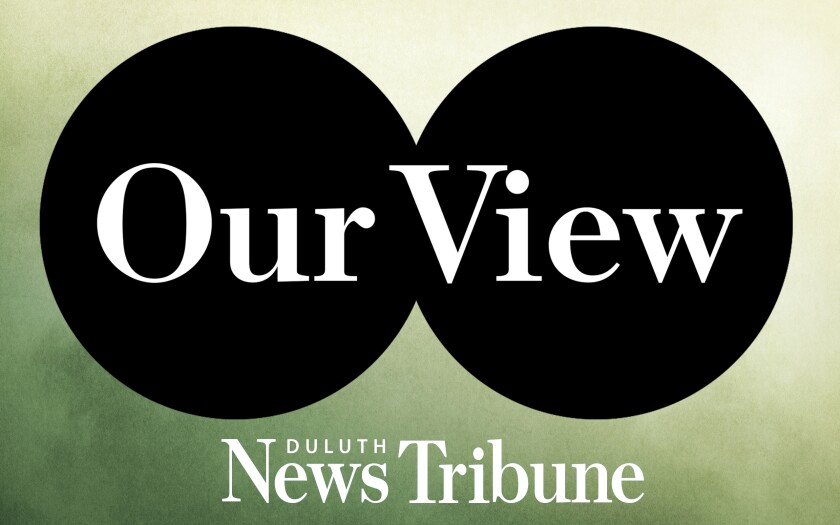 WHAT COMMUNITY LEADERS SAY:
'An amazing project'
"This is an historic private investment in our community and our downtown. The spinoff economic impact will be felt for years, from additional development projects pursuing the medical district to increased pedestrian traffic from hospital staff and patients' families. Our businesses are excited to see the vision become reality and look forward to working in partnership for the betterment of our downtown.
"Our skyline has been transformed and this significant investment will bring positive ripples throughout the downtown. We are extremely fortunate that Essentia is leading a charge for supporting and investing in the heart of our community.
"This is an amazing project. When you tour the facility, it is astounding to realize the forethought that went into planning a hospital for the future."
— Kristi Stokes, president of Downtown Duluth, in an exclusive statement to the News Tribune Opinion page
A 'catalyst' for more investment
"The completion of Essentia's Vision Northland project is indeed a transformative milestone for Duluth. This monumental investment has not only reshaped our skyline but also redefined our potential as a region. It's a pivotal 'before-and-after' moment in our city's narrative, marking a new chapter in our growth and development.
"With the establishment of the state-of-the-art St. Mary's Medical Center, we have solidified our position as the premier health care destination in northern Minnesota. This is a significant achievement that will have far-reaching implications for our community's health and well-being. But the impact of this project extends beyond health care. It positions Duluth as a prime location for living and working, making us a competitive contender in the broader Minnesota landscape.
"The true value of this investment lies in the opportunities it presents for the future. This is not just a one-time infusion of capital into our city. It's a catalyst for sustained growth and development. It's a chance to shape the Duluth of tomorrow, to create a city that reflects our aspirations and values.
"We must seize this opportunity to leverage the Vision Northland project for additional economic development. The project can stimulate further investment in our city, expanding our tax base, and fueling economic growth. It can attract businesses and entrepreneurs, creating jobs and opportunities for our residents.
"The project also presents an opportunity to address some of our city's most pressing challenges. It can spur the development of new housing, helping to alleviate our housing shortage and making our city more affordable for residents. It can lead to improvements in our urban core, enhancing the quality of life for our residents and making our city more attractive to visitors and potential residents.
"Moreover, the project can contribute to our community's health in a broader sense. By promoting a holistic approach to health care, it can improve overall well-being and reduce health disparities in our community. It can also provide new opportunities for education and research, fostering innovation and learning in our city.
"The Vision Northland project is more than just a new building in our city's skyline. It's a beacon of opportunity, a catalyst for change, and a testament to our city's potential. As we move forward, we must ensure that we capitalize on this opportunity, using it to create a brighter, healthier, and more prosperous future for all of Duluth's residents. We are so very grateful to President and CEO Dr. David Herman and the entire leadership team at Essentia for choosing and investing in Duluth and our community."
— Matt Baumgartner, president of the
Duluth Area Chamber of Commerce
, in an exclusive statement to the News Tribune Opinion page
So many worthy of thanks
"Vision Northland is beautiful and an incredible sign of the progress and confidence we now have as a community. This is a facility and level of health care delivery that Duluth deserves. I am grateful to Essentia for choosing project labor agreements, community benefit agreements, and the steam system as part of the public good that makes this investment an even bigger win.
"My thanks also to the 125 city of Duluth staff who, through public works, inspections, legal support and planning, helped support this process and project. Finally, my thanks to the state of Minnesota and the outstanding delegation of senators and representatives who made the $100 million public investment a reality.
"May the healing and hope provided within these walls echo through the health and wellness of those who receive care."
— Duluth Mayor Emily Larson in an exclusive statement to the News Tribune Opinion page
window.fbAsyncInit = function() FB.init(
appId : '929722297680135',
xfbml : true, version : 'v2.9' ); ;
(function(d, s, id) var js, fjs = d.getElementsByTagName(s)[0]; if (d.getElementById(id)) return; js = d.createElement(s); js.id = id; js.src = "https://connect.facebook.net/en_US/sdk.js"; fjs.parentNode.insertBefore(js, fjs); (document, 'script', 'facebook-jssdk'));