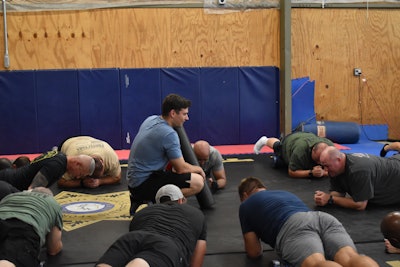 On the northern edge of the Atlanta metropolitan area, Forsyth County, GA, is one of the fastest growing counties in the country. Led by Sheriff Ron H. Freeman, the Forsyth County SO, employees 500, including sworn deputies. One of the agency's newest initiatives is to improve deputy health and fitness. The goal is to reduce the rate of obesity, hypertension, diabetes among FCSO employees.
Tom Nagel, the FCSO's health and fitness coordinator, says the officer health program has been incorporated into the training unit, which is directed by Captain Robert Heagerty. Nagel says Heagerty hired him away from a university athletic program to serve as tactical strength and conditioning coach for the FCSO. Nagel and Heagerty worked together to change how the deputies train and improve their fitness.
During the training Nagel implemented warm-ups to prepare officers for the physical rigors of the instruction. "Having officers in better health will also reduce the number of injuries commonly seen in physical training like defensive tactics. Additionally, this reduced injury rate will transfer to on-shift performance and cost savings for the agency. Musculoskeletal injuries normally make up close to 50% of all worker's compensation claims but can often cost upwards of 80% of all total claims. By implementing better training and focusing on injury avoidance, these claims and costs can decrease," he says.
The Forsyth County SO health and fitness program begins in the academy. "Every morning the cadets perform physical training that will instill healthy habits for their career," Nagel says, adding that cadets also receive education on healthy behaviors that he hopes they will continue throughout their careers.
In addition to working with cadets, Nagel also helps working deputies with their health and fitness. "Classes are taught focusing on nutritional information that will benefit officers throughout their career, exercise techniques that will allow officers to maintain their fitness levels, and health conditions that plague the law enforcement profession and how to avoid them," he says.
One of the ways that the health and fitness program is implemented is through group challenges. "The goal of this initiative is to create a culture of health within the sheriff's office," Nagel says. "Challenges have provided positive results. The first challenge was a step challenge which resulted in officers losing an average of 5.3 pounds per participant in just one month."