The U.S. Food and Drug Administration said Thursday it is withdrawing its emergency use authorization of a COVID-19 antibody therapy as a prevention tool because it is unlikely to be effective against variants that are currently circulating.
Evusheld, which is made by British-Swedish pharmaceutical and biotechnology company, AstraZeneca, was first authorized in December 2021 as pre-exposure prophylaxis against the virus for those who are immunocompromised and less likely to generate antibodies from vaccination.
However, the FDA said the medication does not neutralize several omicron subvariants including BQ.1, BQ.1.1, BF.7, BF.11, BA.5.2.6, BA.4.6, BA.2.75.2, XBB and XBB.1.5.
According to the Centers for Disease Control and Prevention, these subvariants make up at least an estimated 90% of cases in the U.S.
"This means that Evusheld is not expected to provide protection against developing COVID-19 if exposed to those variants," the FDA said in a press release.
"Today's action to limit the use of Evusheld prevents exposing patients to possible side effects of Evusheld such as allergic reactions, which can be potentially serious, at a time when fewer than 10% of circulating variants in the U.S. causing infection are susceptible to the product," the press release continued.
The FDA has been warning for months that Evusheld might not be very effective, starting in February 2022 when data showed a higher dose may be able to prevent against infection from omicron subvariants BA.1 and BA.1.1 than the originally approved dose.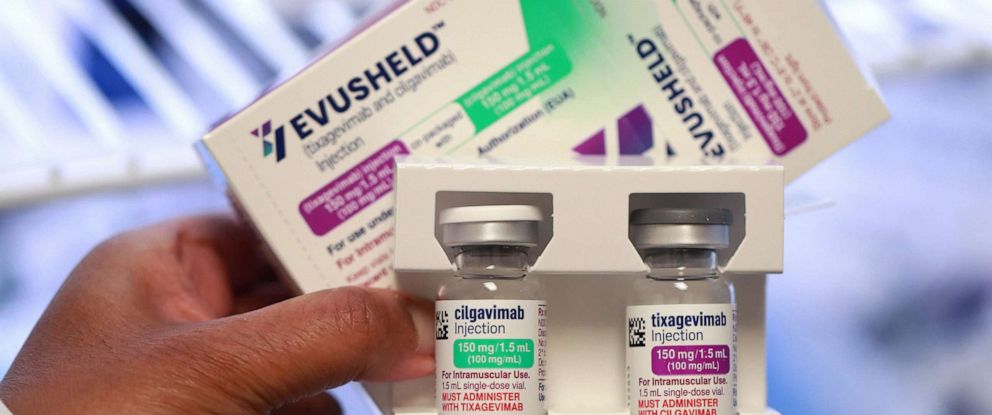 As recently as Jan. 6 of this year, the FDA said it didn't believe Evusehld would be able to neutralize the XBB.1.5 subvariant "because of its similarity to variants that are not neutralized by Evusheld."
AstraZeneca did not immediately reply to ABC News' request for comment. In a statement, the pharmaceutical company said it is aware of the decision and that it is cooperating with the FDA.
"AstraZeneca will continue to work with the FDA and other health authorities to collect, assess and share relevant data regarding Evusheld and SARS-CoV-2 variants," the statement read. "Evusheld currently remains authorized in other countries where it is approved for COVID-19 pre-exposure prophylaxis and treatment, including the EU and Japan."
Evusheld is a type of monoclonal antibody treatment, which are a cocktail of antibodies that are manufactured in a lab and mimic the antibodies the body naturally creates when fighting the virus.
They bind to the spike protein, which prevents the virus from attaching to — and infecting — cells.
The FDA said if someone tests positive for COVID-19 and develops symptoms, they should contact their primary care provider and, if needed, ask to receive antiviral medications Paxlovid, molnupriavir or remdesivir, which work against the currently circulating variants.
Despite Evusheld losing emergency use authorization status, the FDA urged providers not to discard their doses of the drug.
"The U.S. Government recommends that facilities and providers with Evusheld retain all product in the event that SARS-CoV-2 variants which are neutralized by Evusheld become more prevalent in the U.S. in the future," the FDA said in its press release.