On Dec. 7, 2021, more than a dozen surgeons convened a meeting at their hospital, HCA Florida Bayonet Point in Hudson, Florida. Their concerns about patient safety at the 290-bed acute care facility owned by HCA Healthcare Inc. had been intensifying for months and the doctors had requested the meeting to push management to address their complaints. 
Unsanitary surgical instruments, inadequate monitoring of ICU patients, an overflowing emergency department, anesthesiology errors that resulted in patients waking up while in surgery — all were allegations ripe for discussion. 
The meeting soon took an extraordinary turn, four doctors who attended told NBC News. With a hospital administration official on hand to hear the answers, the group was asked two questions. Is the hospital providing a safe environment in which to perform surgery? "No," everyone in the group answered, according to the four doctors. Is it a dangerous place to practice? "Yes," came the unanimous reply. 
For more on this story, tune in to NBC Nightly News with Lester Holt tonight at 6:30 p.m. ET/5:30 p.m. CT or check your local listings.
The hospital administrator promised to address the doctors' issues, attendees told NBC News. But more than a year later, little has changed, they said. A spokeswoman for the hospital declined to comment on the meeting. 
HCA Healthcare Inc., owner of Bayonet Point, is America's largest hospital company, operating 182 hospitals and 125 surgery centers across the nation and in the U.K. HCA is highly profitable — last year it earned $5.6 billion — and its stock is an investor favorite. 
But HCA's laser focus on profits can put its patients at risk as it cuts costs and corners, say seven of the company's doctors in California, Florida, Texas and Virginia, some of whom reached out to NBC News after our report last month about HCA. Nurses in five states concur. Most of HCA Florida's that have been rated by the federal agency responsible for Medicare and Medicaid currently rank below average, and state regulators have raised issues about patient care at Bayonet Point at least twice in the past two years.
Four physicians at Bayonet Point shared recent experiences for this article; three requested anonymity to discuss the hospital because they said they feared retaliation by HCA. 
All four doctors said the quality of care at the facility has declined significantly since 2021, when HCA cut staff and began hiring contract workers. They said that the number of so-called sentinel events — patient safety incidents that result in death, permanent or severe temporary harm — have risen. In January 2022, there were 18 "near misses" among patients about to undergo surgery, said Dr. George Giannakopoulos, 65, a neurosurgeon and the hospital's chief of staff at the time. One such "near miss" occurred, he said, when the wrong side of a patient was prepped for surgery — anesthetizing a left hip that should have been the right. 
Even as Bayonet Point celebrates the opening of a new $85 million tower with 102 additional beds, recent photos of the existing facility provided by doctors show ceiling leaks in a recovery room, oxygen equipment held together with tape, bloody and backed-up sinks, wires dangling from a hole in the wall and cockroaches in the operating room.
Regina Temple is chief executive officer of Bayonet Point. She declined an interview request by NBC News to discuss the doctors' allegations. The hospital's spokeswoman provided a statement that did not answer many of the questions posed by NBC News, including those about allegations of rising "sentinel events" at the hospital, the 18 "near misses" in the OR in a month, the decaying infrastructure or pests.
In her statement, the spokeswoman said: "As a learning hospital, we are continually looking for ways to improve patient safety and quality of care. We apply those learnings, including reports by both federal and state regulators, to ensure best practices for quality care are in place. HCA Florida Bayonet Point Hospital is appropriately staffed to ensure the safe care of our patients. We rely on feedback from our physicians, and when issues are validated we take necessary action."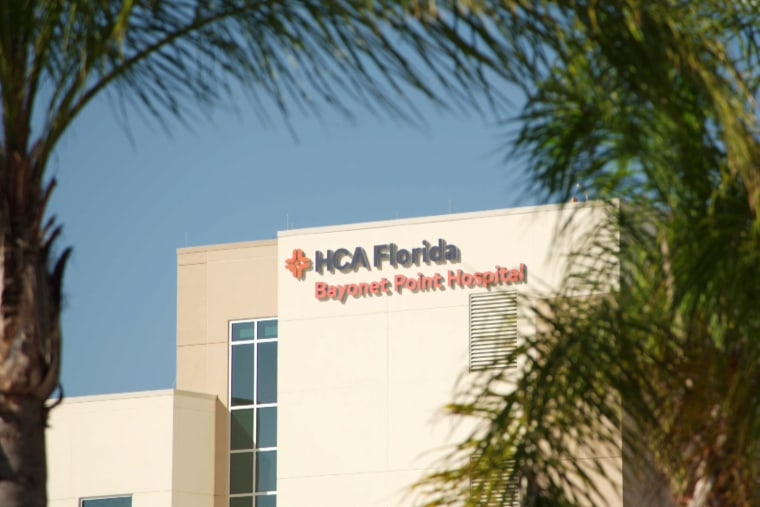 NBC News also asked for an interview with Samuel N. Hazen, HCA Healthcare's chief executive officer. He declined but a spokesman for the company said in a statement that HCA Healthcare has more physicians — 45,000 — practicing at its facilities than ever. "We are able to attract physicians in part due to the systems we have in place to continually improve quality," he said, adding that HCA's most recent physician engagement survey showed "results at all-time highs, including their confidence in our quality initiatives. Our approach to ensuring high-quality care is rooted in our belief of always doing what is right for our patients."
Complaint surveys filed by Florida's Agency for Health Care Administration over the past two years buttress the physicians' concerns about the hospital, however. Last September, for example, nurse-to-patient staffing ratios fell short at Bayonet Point, agency documents show, with one staff member telling government investigators that "she does not feel safe with the number of patients per nurse."
In April 2021, AHCA determined that Bayonet Point had "failed to enforce the emergency department policy and procedures to protect the health and safety of all patients in the hospital's ED." AHCA said, for example, that staffers whose sole job was to watch electronic monitors for changes in patients' vital signs were also acting as unit secretaries, "answering phones, transferring calls, taking written messages, and being distracted by other tasks that involved them not looking at the monitors for long periods of time." 
The hospital's spokeswoman confirmed in her statement that the surveys completed by AHCA had "identified issues, and we worked with AHCA to resolve those issues successfully." 
Last November, officials from AHCA communicated with the hospital, two Bayonet Point doctors told NBC News, warning that the facility might stop receiving Medicare and Medicaid reimbursements if it did not correct its deficiencies. AHCA did not respond to requests for information about the interaction. Asked about this incident and its past deficiencies, the hospital spokeswoman did not respond except to say: "Today, our hospital is in good standing with all regulatory and accrediting bodies, including AHCA." 
On its hospital comparison website, the federal Centers for Medicare and Medicaid Services (CMS), which administers health care for more than 60 million Americans, assigns Bayonet Point an overall one-star rating out of five, the lowest star ranking assigned by the government.
 "The CMS ratings are based on 2017-2019 data and we have since improved our performance," the hospital's spokeswoman said.
Waking up during brain surgery 
Florida, with its elderly population, is a big market for HCA, which has 49 hospitals there — the largest number of any state, according to its website. 
The CMS quality comparison website rates 37 of HCA's Florida hospitals on its five-star system. Fully 70% of them are rated below average, at one or two stars. None of the HCA Florida hospitals currently have a five-star rating.
Neurosurgeon George Giannakopoulos, a 29-year veteran at Bayonet Point and the hospital's chief of staff for the past eight years, said he has grown increasingly disturbed —and vocal — about unsafe and unsanitary conditions at the hospital. He said he's had criticisms over the years about how the hospital was run but that problems really accelerated in 2021. 
"I put patients first," Giannakopoulos told NBC News. "I don't care how far I have to go."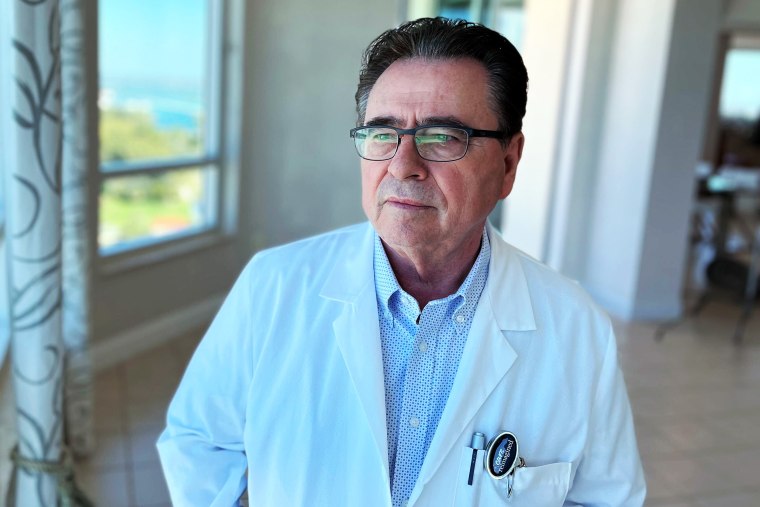 But choosing to speak out seems to have put a target on his back, documents and interviews with fellow doctors indicate. Following his criticisms of the hospital and repeated pleas for improvements, its leadership took a remarkable step in January.
Though Giannakopoulos's peers resoundingly re-elected him as Bayonet Point's chief of staff for two more years last fall, the hospital's board later rejected the election, documents show. In a move the doctors called unprecedented, the board installed another physician in the position. Meanwhile, the board accepted the election results for two additional officers — vice chief of staff and secretary. 
After the doctors objected to the move, a lawyer for the hospital's board sent a letter to Giannakopoulos saying it had voted "not to approve" the election. "If Dr. Giannakopoulos attempts to attend meetings of the Medical Executive Committee, the Board of Trustees, or other Medical Staff Committees," the letter continued, "he will be prevented from doing so by security and, if necessary, he will be escorted off the hospital's property." 
Dr. Christine Behan, a family medicine physician and contract employee of the hospital, chairs its board. She said the board's invalidation of the election was "in the best interest of the hospital and its patients." She cited "repeated instances of inappropriate and unprofessional behavior, including threatening, yelling at, and berating staff, physicians and hospital administrators," by Giannakopoulos. "The board concluded that he could not work cooperatively and collegially with hospital administration and the board," she said.
Giannakopoulos disputed Behan's account. "All those charges were manufactured by the hospital administration to keep me from being chief of staff because I was calling them out on patient care," he said. The three other doctors interviewed by NBC News said they also believed this to be the case. 
Bayonet Point's new chief of staff is Dr. Rami Akel, a cardiologist who is also director of HCA Florida Bayonet Point's Cardiology Fellowship Program. NBC News asked if Akel receives additional compensation for that position; the hospital spokeswoman did not respond. Akel did not return a phone call seeking comment. 
Patient risks really began to mount in 2021, doctors at Bayonet Point say, when the hospital slashed its anesthesiology staff — going from 15 providers to one — and began hiring contract employees affiliated with HCA's Physician Services Group, an in-house staffing unit. The new employees were not as dedicated or talented as the staff they'd replaced, Giannakopoulos and other surgeons said, and terrifying errors began to occur. In one incident, Giannakopoulos said he had just begun a brain surgery procedure, placing the patient's head on sharp instruments known as "pins" for support, when the patient woke up and tried to get off the operating table. 
"Those pins were about two centimeters away from the eye," Giannakopoulos said. "So, you can imagine that could have been tragic." 
The Bayonet Point spokeswoman did not respond to questions about this incident or the doctors' anesthesiology concerns. 
Last October, almost a year after the extraordinary meeting at which the surgeons characterized the hospital as unsafe, Giannakopoulos sent a letter to Bayonet Point management. In it he detailed significant deficiencies he and his fellow physicians had observed at the hospital. 
"At the request of the medical staff by unanimous vote, I have been asked to contact you and appraise you of the dire and dangerous conditions at our hospital," began the letter, which was reviewed by NBC News. In it he told of alleged deficiencies in the emergency department, the ICU, nurse staffing, and anesthesia, "leading to at least a couple deaths," he wrote. 
Hazen, chief executive officer of HCA Healthcare, was copied on the letter along with other executives. Giannakopoulos said he received no responses at all about its contents. 
A few weeks after sending the letter, Giannakopoulos was re-elected chief of staff, the four doctors told us. By January, however, the board ruled he was out. 
Reduced surgery hours 
On an early evening in February 2022, a patient arrived at Bayonet Point's emergency department with a ruptured aneurysm, Giannakopoulos said. Surgery to coil the aneurysm was scheduled for early the next morning, he said, and staff was instructed to monitor the patient closely overnight. 
Next morning, when it came time for the procedure, the patient was comatose, Giannakopoulos said. In the patient's file, he said, there were no nurse's notes detailing the monitoring that had been called for during the overnight hours. The patient later died.
"It was obvious what had happened," Giannakopoulos said. "Nobody had seen the patient from 7 p.m. to 7 a.m." 
Asked about this incident, the Bayonet spokeswoman did not respond. 
All seven of the HCA doctors interviewed by NBC News for this article said they believe the company's hospitals are managed to maximize growth in financial metrics and shareholder returns and that patient care suffers as a result. The new $85 million building at Bayonet Point is an example, the doctors there say. Increasing admissions by adding 102 new beds seems more important than repairing broken equipment in the existing building, eradicating pests in the operating room, or hiring staff in the emergency department, they said. 
The Bayonet spokeswoman said the hospital is building the new tower "to meet the community's needs for rehabilitation services, expanded medical and surgical services, and critical care. In the past three years we have invested an additional $123 million to improve and upgrade many areas of the hospital. Specifically, we renovated and expanded our ER and updated our Post-Anesthesia Care Unit, Preoperative/Holding Area, and Central Sterile Processing Unit. Additionally, we made upgrades to the cafeteria and common areas, invested in new equipment and general maintenance, including repairing minor roof damage." 
Bayonet Point hospital is currently rated "A" for patient safety by Leapfrog Group, an organization that ranks hospitals and describes itself as a health care watchdog.  
Leapfrog also rated Bayonet Point "A" in November 2021, a month after the group of concerned surgeons had unanimously characterized the hospital as unsafe, Leapfrog's website shows. "Receiving the 'A' grade validates our commitment to safety," Bayonet Point's CEO Temple said in a hospital press release.
Responding to questions from NBC News about the rating amid the Bayonet Point doctors' grave concerns, Leah Binder, Leapfrog's chief executive, said hospitals earn grades based on 30 measures of safety that come primarily from the federal government. 
"An 'A' grade means this hospital did better than a 'B'- graded hospital — it does not mean they are perfectly safe," she said. "What this story raises is we need better ways for patients and clinicians to report problems with safety to a federal entity that can use that data and follow up and do investigations." 
HCA has some associations with Leapfrog. An HCA physician is one of 17 hospital members of Leapfrog's Hospital Advisory Committee and another HCA employee is on one of Leapfrog's 12 "expert panels." HCA Healthcare is also member of Leapfrog's 18-entity "Partners Advisory Committee" for which HCA pays $35,000 in annual dues. 
Binder said HCA's involvement on Leapfrog committees or panels gives it no influence on ratings.
Last year, the National Labor Relations Board accused Bayonet Point of engaging in anti-union activity against its employees, as reported by the Tampa Bay Times. The federal agency, which protects workers' rights to organize, concluded that hospital officials had questioned Bayonet Point workers about their union activity and threatened to fire them.
The hospital settled with the agency last November, documents show, agreeing to post notices detailing workers' rights to unionize and saying that management would not threaten them with termination or "create the impression that we are engaging in surveillance of your union activities or other protected concerted activities."
In a statement, Bayonet Point said it "respects the rights of our caregivers and, while we reject any allegation of wrongdoing, we agreed to post the flyer informing our colleagues of their rights." 
Meanwhile, in addition to rejecting Giannakopoulos' election last fall as chief of staff at Bayonet Point, the hospital has reduced his surgery hours — a measure of retaliation for speaking out, he believes. The hospital spokeswoman did not respond to a question about reducing the neurosurgeon's surgery hours. 
Giannakopoulos continues to work at the hospital, a place he calls home after nearly three decades.
"I will survive," he said. "What really bothers me the most — I care about what's going to happen to Bayonet Point and the patients that are there. To drive Bayonet Point down to the ground because of money, because of profits ahead of patient care, it is not acceptable."