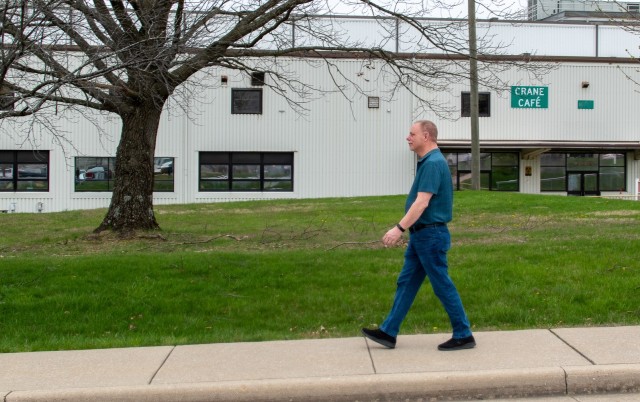 CRANE, Ind. – As Crane Army Ammunition Activity implements initiatives to better execute its core functions, the organization is also introducing several programs designed to improve the lives of its people. Crane Army's Civilian Fitness and Health Promotion Program (CFHPP), introduced in October of 2022, is designed to enhance the health, fitness and quality of life of its workforce, while at the same time, increasing organizational wellness and mission productivity.
The program focuses on the integration of prevention and public health practices to ensure that health and well-being are part of the way in which the Army does business. Crane Army's CFHPP helps employees adjust their day-to-day habits in a healthier direction by enabling time to make health and fitness a priority while on site.
"When you work a 10-hour day and then add almost two hours of travel, it becomes difficult to carve out the time and find the energy to implement a regular workout routine," Bryan Peterson, a procurement manager at Crane Army, said.
Other participants in the program faced similar challenges.
"Raising three young boys and doing other volunteer work and various side hustles, in addition to my job at Crane, made keeping a consistent exercise schedule very difficult," Lauren Shipman, a civil engineer and master planner, said.
"There are times that people are just too busy or have other things to deal with, but having this opportunity is great," Teresa Lee, an ammunition inspector in Depot Operations, said.
Under the guidance of supervisors and team leads, the CFHPP is a voluntary, self-tailored program.
"The CFHPP provides up to three hours of administrative leave, up to three days per week with a total allotment of 80 hours annually for employees to work on their physical fitness and health goals," Kimberly Meeks, management analyst and the CFHPP program coordinator, said.
"I usually take half an hour, three days a week, as I don't want to interrupt my job too much," Lee said. "This time gives me the opportunity to focus on those areas of my life that are most important: being healthy for my family, having a better self-image as I get older and having more energy to do everything I love to do."
The freedom to customize fitness activities to the individual health and wellness needs of the participant enables employees to consistently improve their overall lifestyle.
"I use 30 minutes a day, three days a week to walk," Peterson said. "I learned—combined with a healthier diet—walking is an excellent tool to aid in controlling high blood pressure, high cholesterol levels and weight gain."
"Last Fall, I spent most of my exercise hours jogging by the lake," Shipman said. "When the weather got colder, I transitioned to the treadmills at the gym, but I'm looking forward to spending more time outdoors again."
The program works by encouraging coordination between workforce participation and workload and mission accomplishment. And while constraints such as understaffing or a hectic workload can sometimes make utilizing the CFHPP difficult in certain situations, the workforce is still encouraged to sit down with team leads and supervisors to create work schedules that allow for the use of the CFHPP and ensure production goals are met.
"As a supervisor that has multiple employees utilizing the program, my primary focus has been to help coordinate times to assist them with their workload so that the mission is not impacted," Jesse Reed, a Depot Operations supervisor inventory management specialist, said.
"Our team has had a large increase in last minute, urgent requirements, and it is important not only for morale, but also their physical and mental health to have this program as an option," Reed said.
Crane Army Ammunition Activity produces and provides conventional munitions in support of U.S. Army and Joint Force readiness. It is part of the Joint Munitions Command and the U.S. Army Materiel Command, which include arsenals, depots, activities and ammunition plants. Established Oct. 1977, it is located on Naval Support Activity Crane.