IDF has 'responsibility' to eliminate Hamas, but must 'be mindful' of hospitals, NSC spokesman John Kirby says
As the Israeli Defense Forces close in on the center of Gaza City, some Biden administration officials and congressional lawmakers want evidence of Israel's claim that Hamas' operation center is under Al-Shifa Hospital.
National Security Council spokesman John Kirby joined Andrea Mitchell to discuss the matter.
"They have a legitimate right and a need — in fact, a responsibility — to go after the leadership of Hamas, but they also have to be mindful of civilian casualties, particularly when it comes to a hospital where you have patients who can't evacuate on their own," Kirby said.
"It's hard to look at those pictures, specifically of those little children, and hard to think about young pediatric cancer patients whose lives are literally in the balance hour by hour, not able to move themselves out of harm's way. And that's why we're going to continue to work with our Israeli counterparts to do everything we can to help make their movement safe and efficient and possible."
U.N. says the fuel shortage is affecting aid delivery inside Gaza
The fuel crisis in Gaza is so dramatic that trucks filled with aid arriving through the Rafah crossing from Egypt won't be unloaded starting tomorrow because there is no fuel for the forklifts or for vehicles to deliver the food, water and medicine they're carrying to those in desperate need, a senior U.N. humanitarian official said.
Andrea De Domenico, the U.N. humanitarian coordinator for the Palestinian territories, said "lives in Gaza are hanging by a thread due to the bleeding of fuel and medical supplies." And he said that since Israeli troops arrived in Gaza City center five days ago, it has been too dangerous for the U.N. to coordinate any operation in the north.
De Domenico said in a video news conference with U.N. correspondents from east Jerusalem that the intensified fighting over the weekend around Al-Shifa hospital, the biggest in Gaza City, damaged critical infrastructure, including water tanks, oxygen stations and the cardiovascular facility in the maternity ward. Three nurses were reported killed, he said.
'Nakba 2023': Israel right-wing ministers' comments add fuel to Palestinian fears
TEL AVIV — As Israel's assault on the Gaza Strip intensifies, so has the rhetoric from some members of the country's government.
From raising the idea of dropping an atomic bomb on Gaza to ensuring that the current crisis results in a "Nakba 2023," a number of right-wing ministers have made public comments that compound the fears of some about what Israel may be planning for the 2.3 million Palestinians in the enclave.
"Some of that rhetoric can be seen as potentially genocidal from the way that it dehumanizes Palestinian civilians," Dov Waxman, the director of UCLA's Y&S Nazarian Center for Israel Studies, said in a phone interview. The suggestion of "flattening Gaza" with a nuclear bomb, he said, was particularly worrying.
U.N. experts have repeatedly warned that they believe "the Palestinian people are at grave risk of genocide," and experts say comments like those are only compounding those fears.
Read the full story here.
Offer of 300 liters of fuel to Al-Shifa hospital was meant to 'gain time,' IDF says
The Israel military's offer of 300 liters of fuel to Al-Shifa in northern Gaza was meant to "gain time," a spokesman for the Israel Defense Forces said tonight, but it was rejected.
Jerrycans with 300 liters of fuel were placed by the entrance of the hospital, the IDF said, where staff members say a lack of electricity has severely curtailed efforts.
"It wasn't meant to make the hospital sustainable but just to gain more time, to help save more lives — to save lives of people in the hospital, specifically babies and children," an IDF spokesman, Lt. Col. Peter Lerner, said on social media.
The World Health Organization said the hospital, the main one in Gaza, is no longer functioning.
The IDF said Hamas ordered hospital staff members not to take it.
Dr. Marwan Abusada, a surgeon at the hospital who is also the head of international cooperation at the Gaza Health Ministry, said 300 liters would not be enough to keep the hospital running for even a day.
"It does nothing. It means nothing, 300 liters of fuel. It will run our generators for just half an hour," Abusada said. He said the hospital needs at least 9,000 to 10,000 liters of fuel to run essential services in the hospital per day.
Vivian Silver, peace activist thought to have been taken hostage, was killed on Oct. 7, officials say
Vivian Silver, a renowned Canadian Israeli peace activist who was believed to have been taken hostage by Hamas, was actually killed at her kibbutz on the day of the attack, officials said today.
Silver, 74, was last heard from around 11 a.m. Oct. 7 when she texted friends and family members that she was hiding in her house at the Be'eri kibbutz and could hear gunfire and people screaming.
As the days passed with no word from the authorities that her body had been found, Silver's family suspected that she had been abducted by Hamas fighters.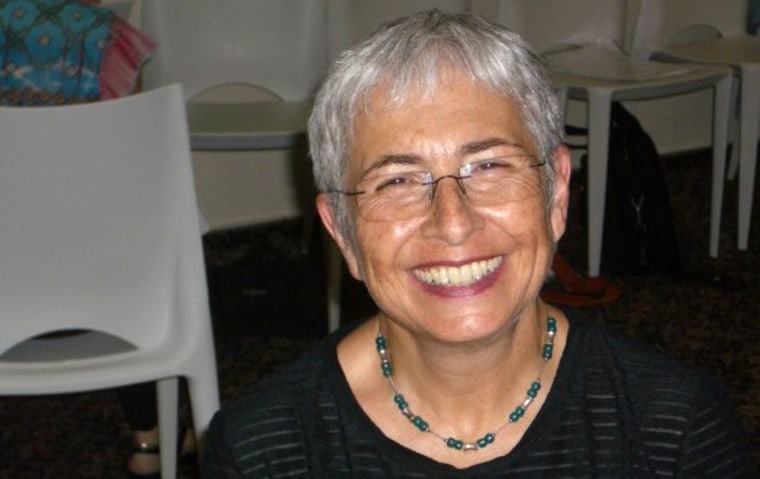 But Israel's consul general in Toronto, Idit Shamir, announced today that she has been confirmed dead, killed by Hamas at her kibbutz.
"Tragic news: Vivian Silver, the Canadian-Israeli peace activist previously thought to be taken hostage, has been confirmed dead, murdered by Hamas in Kibbutz Beeri," Shamir posted on X. "Our hearts go out to her family and friends. May her memory be a blessing."
It was not immediately clear how her remains were identified or why it took nearly five weeks.
Her son, Yonatan Zeigen, told CBC News that his mother's remains had been found earlier at the kibbutz but had only just been identified. He did not immediately respond to a request for comment from NBC News. 
Silver, who was born and raised in Winnipeg, moved to Israel in 1974. For nearly 50 years, she advocated for peace and worked to improve the plight of Palestinians.
Women Wage Peace, an organization where she worked, said on X that she was murdered in her home at the kibbutz.
"Our hearts are shattered," the organization added.
102 U.N. relief agency staffers have been killed in Gaza
An additional staffer of the United Nations relief agency UNRWA has been killed in the last 24 hours, the organization said, bringing the number of its workers killed since the conflict began to 102.
"This is the highest number of United Nations aid workers killed in a conflict in the history of the United Nations," UNRWA said in a situation report today.
The staffer was killed in northern Gaza along with her family, said the organization, the full name of which is the United Nations Relief and Works Agency for Palestine Refugees in the Near East.
Earlier today flags were lowered to half-staff at U.N. offices to mark the dead.
IDF says Hamas used hospital basement to house hostages
Israel's military accused Hamas of using the basement of Rantisi hospital in Gaza to house hostages after the Oct. 7 attack, IDF spokesperson Daniel Hagari said at a briefing today that included video of soldiers walking through the basement.
In a video recorded by the IDF, Hagari speaks to the camera in English and shows what he says are Hamas explosives, vests with explosives, hand grenades and rocket-propelled grenades, and a motorcycle with a bullet hole in it that the IDF believes was used in the Oct. 7 attack. Hagari says he believes a Hamas militant rode the motorcycle back to the hospital after the attack.
NBC News has not independently verified the video shown and provided by the IDF, nor has it verified what the items seen in the hospital were used for or whether the motorcycle was used on Oct. 7.
Hagari shows another room in the hospital, where the military presumes hostages were held. There is a baby bottle, diapers and a curtain hanging that the IDF says could be used to record hostage videos.
In the video, Hagari also points to a chart on the wall that he says shows where Hamas operatives put their names down for shifts to monitor hostages. An NBC News translation of the list includes days of the week, with an "X" marked on dates from Oct. 7 to Nov. 3. What appears to be a handwritten signature can be seen in the middle of the page. NBC News has not confirmed what the paper is or its purpose.
Speaking at the briefing, Hagari said the list marked the days from Oct. 7 and the name Hamas gave the operation.
"I don't know exactly what it indicates. When did they leave this area? But you have to remember we evacuated the hospital with the patients," Hagari said at the briefing. "They might have left with the patients. They might have … ran away through tunnels, and we have signs that they had hostages with them. It's still under investigation."
Hamas' government office issued a statement today accusing the IDF of lying to the public and described the video shown during the news conference as "contradictory and "clearly showing constructed, fabricated and misleading scenes." The statement also accused the IDF of a misinformation campaign to justify attacking hospitals.
Prime Minister Netanyahu calls conflict 'a war to the end'
Israeli Prime Minister Netanyahu on Monday visited soldiers and vowed that the war that he has declared against Hamas was not an "operation" against the terror group.
"This is neither an 'operation' nor a 'round' but a war to the end," Netanyahu said.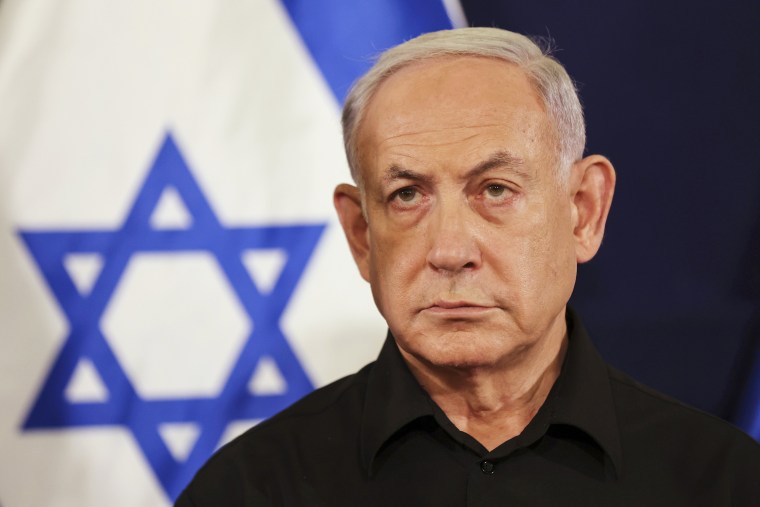 "If we do not finish them, it will come back," he said.
Netanyahu has vowed to crush Hamas after the Oct. 7 terror attacks on Israel, and Israel's military has rejected calls for a broad cease-fire as the civilian casualties have grown after Israeli airstrikes on Gaza, where Hamas operates and controls.
Israel's military says it is striking Hamas military targets and seeks to limit civilian casualties.
Palestine Red Crescent says it was unable to evacuate Al-Quds
Medical staff members and patients are trapped in Al-Quds hospital without food or water after, it said, the Palestine Red Crescent Society was unable to evacuate to the south Gaza Strip today.
The organization said it had approval to move to its branch in Khan Younis today but was unable to do so after, it said, the IDF ordered its convoy to return.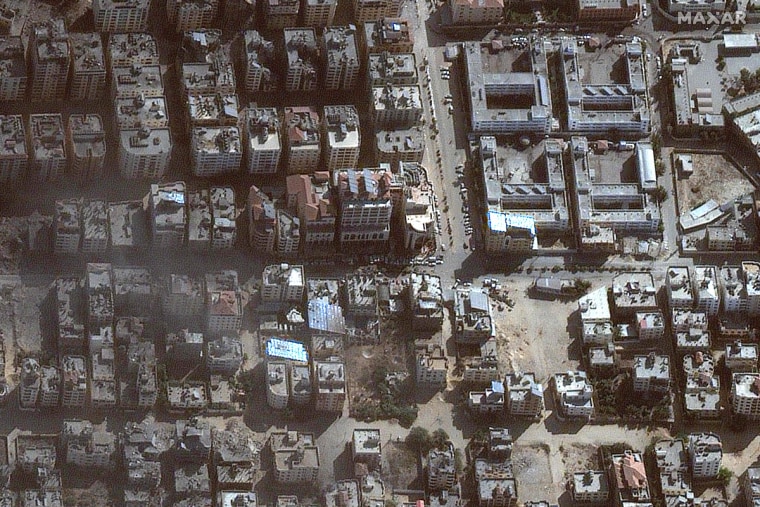 "The decision was rationalized by referring to a security incident in the vicinity, despite the convoy undergoing thorough inspection," the PRCS said on X. "It is noteworthy that yesterday, displaced individuals were allowed to exit through a route specified by the occupation forces, under specific and challenging conditions."
In a written statement, the IDF said a "terrorist squad" had embedded itself among civilians at the entrance to the hospital and shot at soldiers and there was an exchange of fire.
Al-Amal Hospital, the organization's affiliate hospital in Khan Younis, also lost power to its sole generator today. There are 90 patients' lives at risk without the power, the PRCS said, and only a small backup generator with roughly a day's worth of fuel is helping to run its maternity ward and emergency lighting.
Constitutional rights group sues for injunction to stop U.S. support of Israel's seige on Gaza
The Center for Constitutional Rights is requesting a federal court order to stop the U.S. government's support of Israel's siege on Gaza, the group said in a statement today.
Biden, Secretary of State Antony Blinken and Defense Secretary Lloyd Austin are named in the complaint, which was filed on behalf of Palestinian human rights organizations and multiple individuals. The White House did not immediately respond to a request for comment.
"Biden, Blinken, and Austin, as outlined in the complaint, are sued in their official capacity for failing to prevent an unfolding genocide where they have influence over the State of Israel to do so, and directly abetting its development with weapons, funds, and diplomatic cover, in breach of duties enshrined in the Genocide Convention and customary international law," the group said.
Experts in genocide and the Holocaust included declarations that offered analysis of signs of potential genocide against Palestinians as part of the complaint, which was filed in U.S. District Court for Northern California.
Security level upgraded for upcoming March for Israel in D.C.
WASHINGTON — The March for Israel event scheduled for tomorrow has been upgraded on the city's scale for Special Event Assessment Rating Events, a spokesperson for the Washington government told NBC News.
On Friday, the march was at level 3, and it is now at level 1, the highest designation before it would be a National Special Security Event. The Department of Homeland Security upgraded the level and communicated the upgrade to the city, the spokesperson said.
The spokesperson did not say what information led DHS to make the upgrade. Typically, crowd size, expected attendance by members of Congress or other figures who require additional protection, and perceived threat level are all taken into account when such events are designated.
Permits for tomorrow's events say crowds could reach up to 60,000. A list of expected speakers has not yet been released.
Photo shows IDF capturing Gaza parliament building
The photo shows the IDF's Golani Brigade occupying the Palestinian parliament building in Gaza City. It is unknown who took the photo and released it originally. The image, which has been verified by NBC News, began circulating widely online as Israel's defense minister declared that Hamas has lost control of Gaza.
Palestine Red Crescent denies IDF allegation that Hamas was inside its hospital
The Palestine Red Crescent Society rebutted accusations from the Israeli military today that a Hamas militant was inside its hospital, Al-Quds, with a rocket-propelled grenade.
The IDF posted a clip on X that it said showed someone, whom it labeled a Hamas militant, with an RPG launcher outside the hospital. The caption said a "Hamas terrorist" was inside Al-Quds hospital with the weapon.
The Palestine Red Crescent Society denied the allegation, which it said was a "blatant attempt to incite further targeting and besieging of the hospital." It also said that there are no armed people in its hospital and that no shots have been fired from within it.
"PRCS rejects these baseless allegations, as the published video clearly shows that the armed individuals approached from the street while the occupation tanks were stationed in front of and shielded by the hospital, endangering the lives of medical teams and patients," the organization said in a post.
Israeli defense minister: Hamas has 'lost control of Gaza'
In a taped statement broadcast across Israel today, Defense Minister Yoav Gallant declared that after 16 years in power, "the Hamas organization has lost control of Gaza."
"Citizens are going and looting Hamas bases," Gallant said. "They have no faith in the regime anymore. … Every day we eliminate more Hamas commanders."
He said that the mission is going "according to plan" and that IDF troops are reaching the center of Gaza City.
Hundreds of protesters in Chicago flood train station and Israeli Consulate demanding cease-fire
CHICAGO — Hundreds of Jewish Americans and allies from across the Midwest flooded a building this morning in downtown Chicago, where both a commuter rail station and the Israeli Consulate are located. The goal, organizers said, was to "disrupt business as usual" and demand an immediate cease-fire in Gaza.
Around 9 a.m., hundreds of people flooded the second floor of Chicago's Accenture Tower on West Madison Street. Dozens sat on escalators, blocking commuters as they got off trains.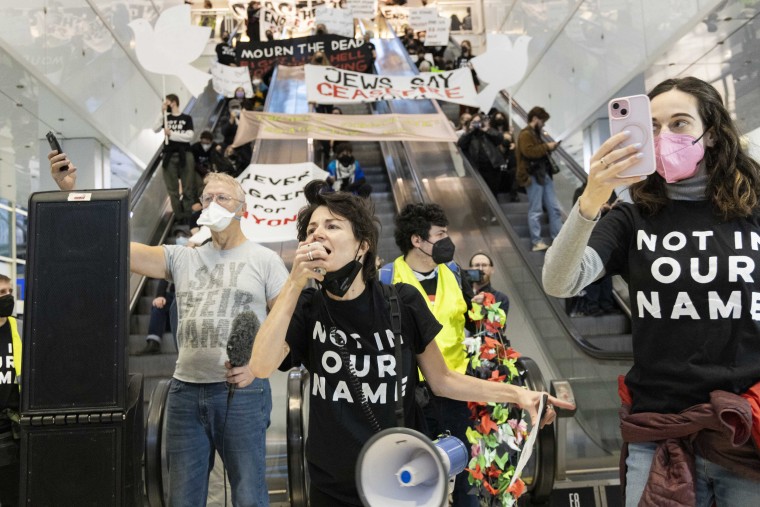 Chanting "Cease-fire now!" and carrying signs with sayings like "My grief is not your weapon" and "We stand with Palestine," the crowd remained for close to an hour. Private security eventually stopped anyone without a train ticket from entering the building as Chicago police stationed dozens of officers outside.
Billed as "the largest Midwest gathering of Jews in solidarity with Palestinians" ever, Chicago chapters of the groups Jewish Voice for Peace, IfNotNow and Never Again Action estimated close to 1,000 people were traveling from states across the Midwest. NBC News' crew on the ground estimated the crowd to be closer to a few hundred.
Rachel Ida Buff, of Jewish Voice for Peace, came from Milwaukee.
"Most people drove. We've been staying with a network of people. Some of us stayed in hotels. Some people flew in," she said.
She added many came hoping to counteract messages from Midwestern Jewish leaders that they deem too conservative.
"The mainstream Jewish voice in Milwaukee and Indianapolis, even in Chicago, is, you know, 'We're in support of Israel. This is our community.' And it's very important to say this does not speak for all of us," Buff said.
Ariel Levin, who drove four hours from Iowa City, Iowa, said: "We came in to disrupt business as usual in the station, to disrupt business as usual in the building where the Israeli Consulate is. We can't just continue about our daily lives when our taxpayer money is being used to kill people."
After close to an hour, the crowd largely appeared to leave the Accenture Tower but continued chanting and singing outside. NBC News' crew later witnessed multiple people being led out of the building in handcuffs.
Chicago police told NBC News there were 106 arrests for criminal trespass.
'It was very heartwarming': 20-year-old Palestinian reunited with friends in southern Gaza
Nowar Diab, a 20-year-old Palestinian university student sheltering in Khan Younis, described conditions in the south getting "worse and worse" because of the recent wave of new evacuees from northern Gaza — but she said her family is "trying to cope."
"There's bombing in the area," she said in an audio message. "We're getting used to it at this point."
More than 100,000 Gazans have fled south in "tactical military pauses" according to estimates from the United Nations and the IDF.
Amid the dire humanitarian conditions, there was a silver lining for Diab — reuniting with a familiar face.
Diab, from Gaza City, had been separated from all her friends, and she said she "knew no one" in Khan Younis except for the relatives she had been staying with for almost a month.
"My best friend evacuated today," she said, adding that her friend's family had so far been staying put in the Rimal neighborhood of Gaza City. "They didn't want to leave. They tried to stay in their house as much as possible, but today they had to leave."
"I saw her today because she stayed in a house very near where I'm staying. It was very heartwarming to see her again," Diab said.
After she met up with her friend, Diab said, she saw another friendly face as she walked back to her relatives' home. She is sheltering with at least 14 people, including her younger siblings.
"While I was going back to my house, the house that I'm staying in, I heard someone like call my name, and I turned around I saw another friend that I know," she said.
Diab said it was "crazy" that so many people had fled from the north in the past week, but she welcomed the coincidence.
"He waved at me, and I waved at him back, and I also was also happy to see him," she said.
Communication has been increasingly difficult with people on the ground in Gaza like Diab. NBC News has been in touch with her, among others, for the past month and chronicled her evacuation from her home in Gaza City in a recently published digital documentary: "Search for Safety."
Biden on Al-Shifa and other hospital strikes: 'Hospitals must be protected'
After an Oval Office event at the White House today, NBC News' Kelly O'Donnell asked Biden about Israeli strikes on hospitals in Gaza.
"Well, as we know, I have not been reluctant expressing my concerns with what's going on," Biden said. "My hope and expectation is that there will be less intrusive action relative to hospitals, and we remain in contact with the Israelis."
"Also there is an effort to get this pause to deal with the release of prisoners, and that's being negotiated. … So I remain somewhat hopeful, but hospitals must be protected." 
Israel-Hamas war stokes tensions in Europe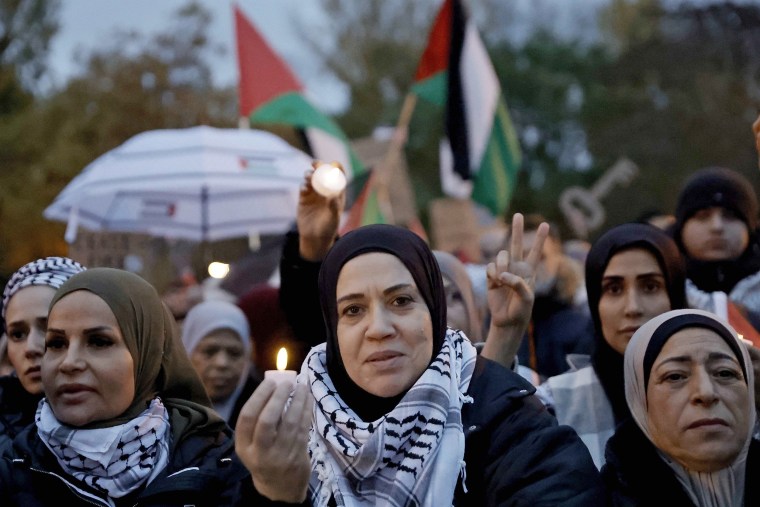 LONDON — The turmoil of the Israel-Hamas war is causing reverberations far beyond the Middle East as close U.S. allies grapple with the limits of free speech while political and public tensions rise.
On Monday, British Prime Minister Rishi Sunak fired the interior minister, Suella Braverman, days after she accused police of being too lenient with pro-Palestinian demonstrators whom she labeled "hate marchers" supporting terrorism.
Braverman's departure led to a government reshuffle that led to the unexpected return of former Prime Minister David Cameron as foreign secretary. Cameron will be responsible for leading Britain's response to the war, which has helped fuel polarization in politics and in the population at large.
The moves offered a dramatic signal of how ripples from the crisis in the Middle East are being felt from London to Paris and Berlin, where Europe is struggling with how to balance fears of rising antisemitism and the rights of protesters who for weeks have marched in the streets of the continent's biggest cities.
Click here to read the full story.
Al-Shifa hospital 'should have taken' Israel's fuel offer, U.S. State Department says
Staff at Al-Shifa hospital "should have taken the offer" from Israel's government regarding a few hundred liters of fuel, State Department spokesperson Matthew Miller said during his briefing today.
Israel's government officials and military said yesterday it offered the hospital 300 liters of fuel which were dropped off somewhere outside the hospital. The IDF said that Hamas prevented staff from getting the fuel and Netanyahu told MSNBC that it was "refused" by the hospital.
Reporters pushed Miller on how Al-Shifa staff could have gone outside to collect the fuel when the staff have reported that they've been targeted by Israeli forces when they exit.
"You mentioned reports that the Israelis were firing on people near the hospital or relief workers," Miller said. "There are reports that Hamas fighters are firing on Israeli soldiers from inside the hospital … I would say in general, if it is so important for this hospital to have fuel — which it obviously is — I would think that they, I would hope that they would take the government of Israel up on its offer to provide fuel."
Miller also blamed Hamas for not providing fuel from its reserves to the hospital. "If Hamas truly cared for the people in Al-Shifa, and in other hospitals in the north, it could take the fuel that's using to protect its fighters, and to send it to the hospitals so the hospitals could protect patients," Miller said. "They are not doing that."
Journalists describe 'horrifying moment' missiles exploded near press convoy in Lebanon
MTV Lebanon correspondent Nakhle Odamie was broadcasting live in Yaroun, Lebanon, today when missiles struck the press convoy "about 10 meters away from us." Moments later, while running away, he said a second missile fell. "It went 'bzzzzzzz' in front of us, and then 'boom' in front of us," Odamie said.
Al Jadeed anchor Rif Akil said that if they had not been behind cars, "I'm sure all of us would be maybe wounded or maybe killed."
One cameraman from Al Jazeera was injured and released from the hospital, while broadcast vehicles were damaged.
"We were lucky," Odamie said. "We have a new life. What can I tell you?"
Both journalists said the group was on a trip coordinated by the Lebanese army and U.N. peacekeeping troops to see houses previously destroyed in missile strikes.
According to Akil, everyone in the convoy was wearing bulletproof vests and helmets with "PRESS" written on them. "I don't know what was the message. You are not allowed to cover in this area?"
Al-Shifa hospital is now 'nearly a cemetery,' WHO says
Bodies are piling up at Gaza's largest hospital as it loses the ability to carry out basic functions, turning Al-Shifa hospital into a morgue, World Health Organization spokesperson Christian Lindmeier told BBC News today.
"Around the hospital, there are dead bodies which cannot be taken care of or not even be buried or taken away to any sort of morgue," he told the broadcaster.
Roughly 600 patients remain in the hospital, with others sheltering in the hospital halls, according to Lindmeier. Staff are unable to provide essential care to premature babies and its 45 kidney patients who require dialysis.
"The hospital is not working at all anymore as well as it should," he said. "It's nearly a cemetery."
Jordan's King Abdullah II rejects any Israeli occupation of Gaza, including 'buffer zones'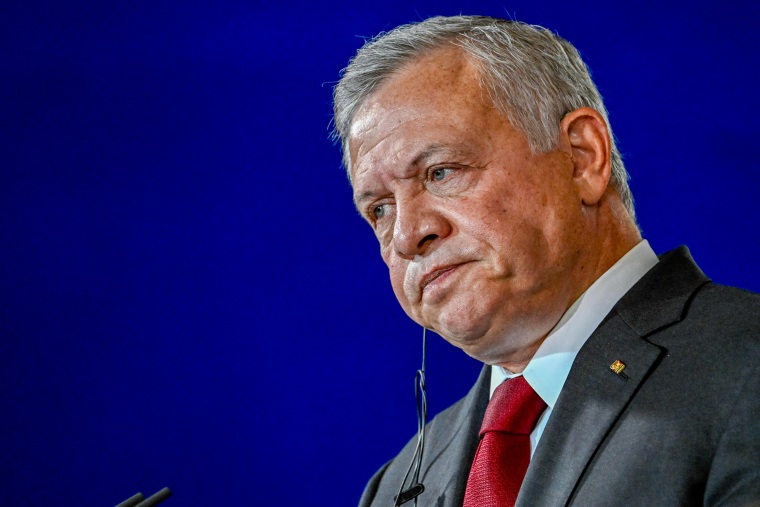 In a meeting with Jordanian officials, Jordan's King Abdullah II rejected Israeli occupation of Gaza, while denouncing Israel's actions as "not acceptable to any religion" and calling for a two-state solution with the reunification of Palestinian territory.
In a statement today on X, the Royal Hashemite Court warned that any form of occupation, including buffer zones, would "exacerbate the crisis and infringe on Palestinian rights." The king sharply rebuked what he described as the "collective punishment, the killing of civilians, and the demolition of all vital facilities" by Israel.
Abdullah emphasized that a political process toward a two-state solution must include a reunification of Palestinian territory to end Gaza's isolation.
Israeli foreign minister admits private pressure for cease-fire is on the rise
Israel is beginning to see a push for a cease-fire from its international partners after weeks of support in the war, Foreign Minister Eli Cohen said in a press briefing today.
"From a political point of view, we recognize that pressure has begun on Israel," he said. "The pressure is not very high, but it is on the rise. There are also those who are asking, not publicly, for a cease-fire."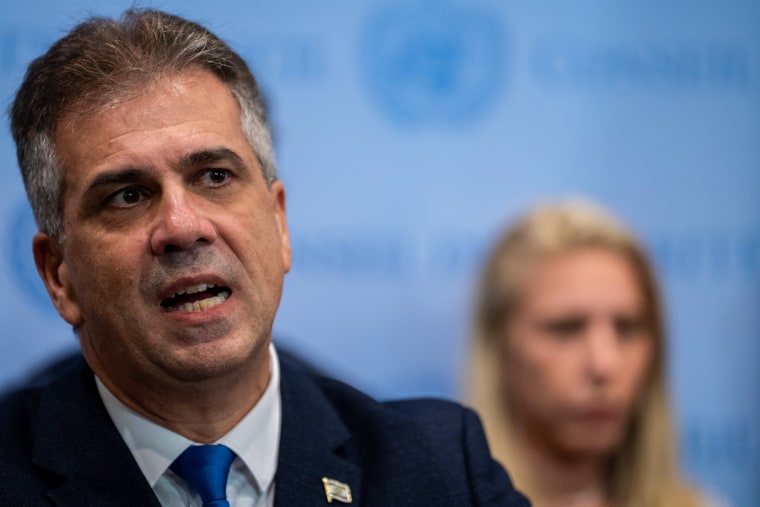 Cohen also posted an interview clip of himself today on X, stating that Israel is fighting for every resident and that the country will not stop fighting even after international support wanes.
"But I say here clearly, even when the international credit runs out, we will continue to advance the two goals we have set for ourselves: the elimination of Hamas and the return of all the abductees," he said in the clip.
There's 'no water … no food' in Al-Shifa as 600 patients — including babies — need intensive care, surgeon says
A Doctors Without Borders surgeon inside the Al-Shifa hospital in Gaza City described the dire situation today: "We don't have electricity. There's no water in the hospital. There's no food. People will die in a few hours without functioning ventilators."
The surgeon estimated there are 600 patients, including 37 babies, who need an ICU.
"In front of the main gate, there are many bodies, there are also injured patients, we can't bring them inside. When we sent the ambulance to bring the patients — a few meters away — they attacked the ambulance," he said.
Israeli forces have surrounded Al-Shifa with tanks, saying that Hamas built a command center underneath the hospital, a claim American officials support.
Doctors in the hospital have refused to leave without the safe evacuation of the patients inside. The surgeon said that people who previously tried leaving the facility were hit by sniper fire.
They said that without electricity and with no internet connection, future updates from the hospital may be very limited.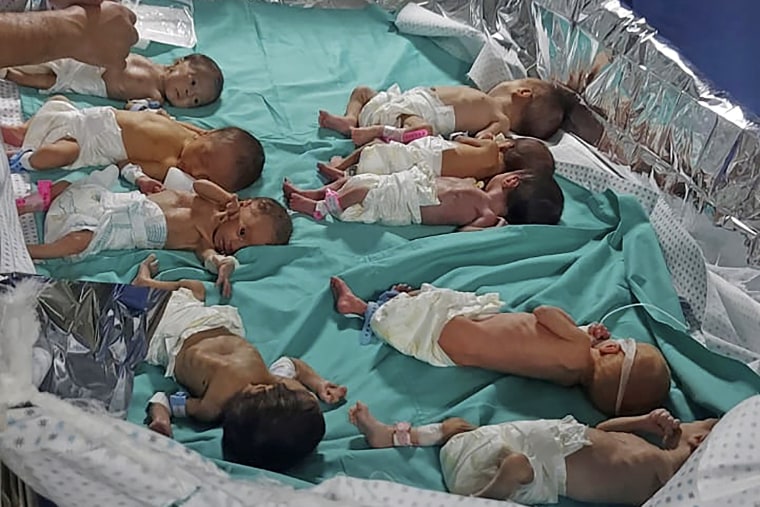 Hamas calls on the world to intervene after warning of complete communications blackout in Gaza
Hamas officials in Gaza are calling for the international community to intervene as they warned of "dangerous repercussions" of what they said would be a complete communications and internet blackout in Gaza later this week.
It comes after local media reported that Palestinian Communications Minister Ishaq Sidr announced that communications and internet service will completely stop in Gaza on Thursday because of shortages of fuel.
Internet and communications have already been spotty in the enclave amid intensifying fighting and electricity shortages caused by the Israeli blockade.
The Hamas officials said a complete blackout would condemn "our people to death" as Gaza residents won't be able to get hold of emergency and rescue services.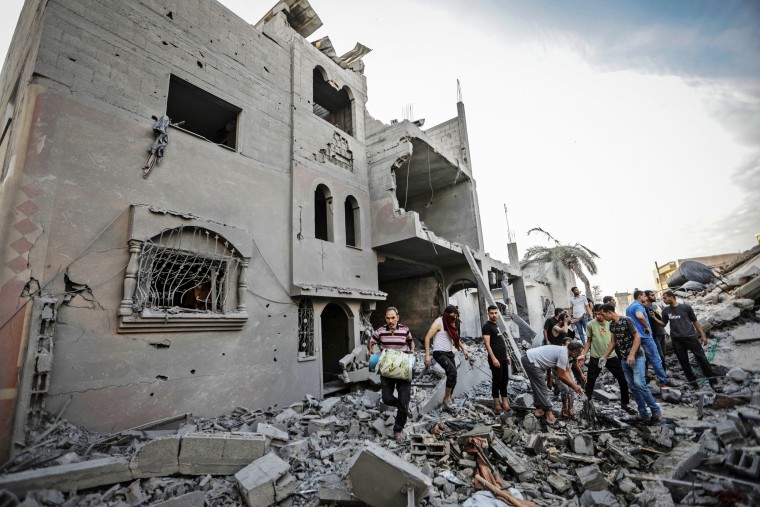 TikTok denies pushing anti-Israel content in U.S., says Instagram and Facebook have more '#FreePalestine' posts
TikTok pushed back on claims it's promoting anti-Israel content to its American users. Conservative U.S. politicians and wealthy tech investors have renewed calls to ban TikTok, a platform developed in China, over the claims.
A group of highly followed Jewish TikTok creators and Jewish celebrities wrote an open letter to TikTok on Nov. 2 asking the platform to address rising antisemitism during the Israel-Hamas war.
"TikTok does not 'promote' one side of an issue over another," the company wrote in a newsroom post. "The content people see on TikTok is generated by our community and recommendations are based on the content people have previously engaged with."
Since Hamas' Oct. 7 terrorist attack, TikTok said it has removed more than 925,000 posts in the conflict region for violating its policies around hate speech, violence, misinformation and terrorism — including promoting Hamas — as well as removed more than 730,000 videos globally, 24 million "fake accounts," and more than 500,000 "bot comments" on content under related hashtags. 
TikTok also said there was far more content tagged "#FreePalestine" on Instagram and Facebook, both American platforms owned by Meta. According to TikTok, there are 3 million videos on its platform tagged "#FreePalestine," versus more than 5.7 million Instagram posts and 11 million Facebook posts tagged "#FreePalestine."
TikTok added that historic polling from before TikTok existed has indicated years of shifting support away from Israel among people under 40 in the U.S.
"The data shows that this support is not new and was rising before TikTok was created, so it would be unrealistic to ascribe such broad sentiments to a single communications channel such as TikTok," the post said. 
TikTok discouraged against "blunt comparisons of hashtags" and said many of the views on content users tag with "#freePalestine" come from the Middle East and Southeast Asia.
In the U.S., TikTok said videos tagged "#standwithIsrael" have 68% more views per video that videos tagged with "#freePalestine," and that the "#freePalestine" hashtag has been used for years, while "#standwithIsrael" has predominantly been used in the past 30 days
Israeli forces advance in Gaza as hospitals are on the verge of collapse
Calls for a cease-fire are growing after a deadly weekend of fighting in Gaza where hospitals are on the verge of collapsing. NBC News' Jay Gray reports on the latest developments in the Israel-Hamas war. 
Hamas says Hezbollah will enter the war if Hamas is fully destroyed by Israel
BEIRUT — Hezbollah will fully enter into the war with Israel if Hamas is completely destroyed in the Gaza Strip, a senior Hamas official said today.
"Now is not the time," Ahmed Abdul Hadi, a Hamas representative in Beirut, said of Hezbollah's full involvement in the fighting across Lebanon's border with Israel. "The red line for Hezbollah would be the full destruction of the resistance in Gaza."
Hadi's comments are the first clear indication from a Hamas official of the group's expectations for their Lebanese partners' role in the ongoing fighting.
In several interviews, multiple Hezbollah officials have declined to offer a "red line" for their increased involvement, repeatedly stressing that Hezbollah will base its role on Israel's actions in the Gaza Strip and on its border with Lebanon. In an interview last week, Hezbollah second-in-command Naim Qassem told NBC News that so far, Hezbollah's fighting was meant as a deterrent "for the sake of lowering the pressure on Gaza."
Like Hamas, Hezbollah is backed by Iran and designated as a terrorist organization by the United States and Israel. It has lost at least 73 fighters.
Israeli forces surround Al-Quds hospital in Gaza City, Red Crescent says
Israeli forces have surrounded the Al-Quds hospital in Gaza City, the Palestine Red Crescent Society said today, as its evacuation convoy was forced to turn back because of the relentless bombardment.
"Israeli tanks and military stationed near Al-Quds Hospital from all directions. Bombardment is ongoing," PRCS said in a post on X.
The IDF said Hamas militants had fired on them from the hospital entrance.
"During the exchange of fire, civilians were seen leaving the hospital building, and other terrorists who came out of adjacent buildings hid among them and joined the attempted attack," it said, adding the militants returned to the hospital after firing rockets at the military.
Peace negotiator who helped secure release of Israeli soldier decades ago weighs in on hostage talks
TEL AVIV — Gershon Baskin, who helped secure the release of captured Israeli soldier Gilad Shalit more than a decade ago, told NBC News that he is skeptical of any reports related to hostage negotiations that are not officially announced by both sides.
"It's all aimed at influencing the negotiation process itself," he said, adding that he believes Netanyahu's remarks about a possible deal are "so general that they're just meant to keep the hostage families quiet and in line."
Baskin is a columnist and a prominent figure in Middle East peace efforts. He founded the Israel/Palestine Center for Research and Information, a joint Israeli-Palestinian policy think tank, and now co-chairs its board.  
Baskin noted that the recent visits to Doha by the CIA director and the head of Mossad underscore the importance that Israel and the United States place on the Qatari track.
"I hope the Americans are pressuring Qatar to deal seriously with Hamas, because the Qataris potentially hold the keys. If the representatives of Hamas in Qatar actually have access to the people underground in Gaza, which I'm suspicious about, then pressure from Qatar on Hamas is essential."
Shattered buildings form a scarred landscape in northern Gaza
Two men walk along the border with the Gaza Strip in southern Israel today, amid a backdrop of shattered buildings.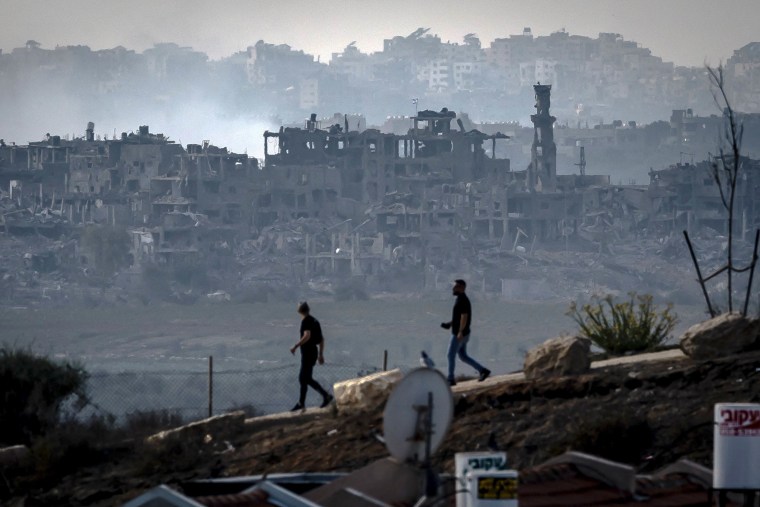 U.S. military video shows airstrike on a weapons facility in Syria
The Defense Department has released video of a reported airstrike on a weapons storage facility in Maysulun, Syria, on Wednesday.
Israel's assault on Gaza adds to uncertainty of fragile hostage talks
TEL AVIV — The Israeli government is in talks to try to free hostages who've been held in Gaza for over a month, while simultaneously pushing on with a military campaign that could risk their lives or turn out to be a hostage rescue.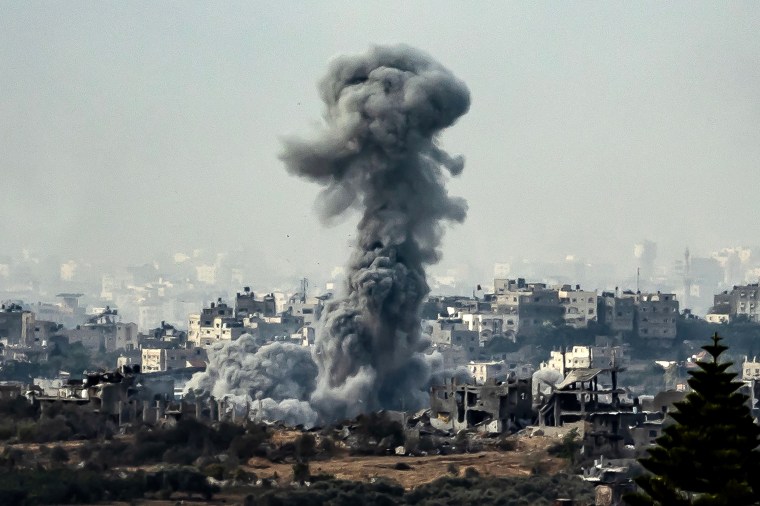 "The clock is ticking," a diplomat with knowledge of the hostage talks told NBC News. "It has to happen this week because Israel is getting deeper into Gaza. If Hamas is pushed too far, they may think they have nothing to lose. The further the Israelis get, the more they'll think they don't need the hostage talks."
A Biden administration official told NBC News yesterday one possible deal being discussed includes the release of about 80 women and children in exchange for the release of Palestinian women and teenagers held in Israel. 
Read the full story here.
Israel and U.S. discussing long-term plan for Gaza, Israel's ambassador says
Israel's ambassador to the U.S. said yesterday that Israel is in dialogue with Washington over long-term plans for the Gaza Strip.
As Israel's ground operation in the enclave continues, Michael Herzog told "FOX News Sunday" that Palestinians will have to govern Gaza after Hamas is defeated, and that Israel is entering into discussions with the U.S. about what the enclave's future could look like.
Last week, Netanyahu suggested that Israel would maintain "overall security responsibility" for Gaza once the conflict ends.
"We are not in Gaza in order to occupy Gaza or to govern Gaza," Herzog said. "We are there to remove the Hamas military threat against Israel and their ability to rebuild their capabilities and strike again and again, as they're saying they would like to do. That's our intent."
Herzog added that the Palestinian Authority, which currently administers semi-autonomous areas of the occupied West Bank, would have to "undergo reform" if it wants a leading governing role in Gaza.
Gaza hospital staff conduct a medical procedure by cellphone flashlight
Medical staff stitched up a patient's head wound using the flashlight from a cellphone yesterday amid power outages at Gaza's Indonesia Hospital.
Humanitarian corridor open for civilians fleeing south, IDF says
The Israel Defense Forces said that a humanitarian corridor is open again from 9 a.m. to 4 p.m. local time today to enable civilians in northern Gaza to flee south.
There was also a tactical military pause between 10 a.m. and 2 p.m. in Rafah in southern Gaza, it said in a post on X, which was also posted in Arabic. 
Well over 100,000 Gazans have already fled south using the corridor, according to estimates from the U.N. and the IDF.
The Israeli military also said that since Hamas' attacks Oct.7, it has conducted 4,300 strikes in Gaza, including on 300 of the militant group's tunnel shafts.
'We are collapsing,' Al-Shifa neurosurgeon tells NBC News
TEL AVIV — The situation at Al-Shifa hospital in Gaza is "extremely difficult and dangerous," the head of neurosurgery at the hospital told NBC News this morning.
Dr. Nidal Abu Hadrous said in a telephone interview that about 2,000 people are packed inside Gaza's largest hospital, including staff and 600 patients. Due to a lack of supplies, doctors are unable to treat their patients fully and can only offer "nursing" services, he said.
"[Because of] the shooting and bombing, we cannot move out," Abu Hadrous said. "It's not safe to move out and it's not safe to stay. We don't know what to do. Please help us."
Patients are dying "every day" because of a lack of oxygen, electricity and water, he added, and the 36 babies who had to be taken off their incubators are likely to die. Three newborns died at the hospital over the weekend, according to the Health Ministry.
Abu Hadrous said the hospital is running out of food, and he's not sure when he will eat again.
"Personally, we are collapsing," he said. "I'm not sure how many days more we will be able to survive … I don't believe in humanity anymore. I don't believe in all these special committees and organizations anymore. Nobody is taking care of us. This is unbelievable. I have no words."
He appealed to the Red Cross to help facilitate the evacuation of the hospital.
U.N. honors 101 staff members killed in Gaza
The United Nations today honored more than 100 of its staff members who have died in Gaza since the war between Hamas and Israel broke out last month.
The organization's flags flew at half-staff at its offices around the world in memory of the 101 employees of the U.N. Palestinian refugee agency (UNRWA) who have been killed in the enclave since Oct. 7.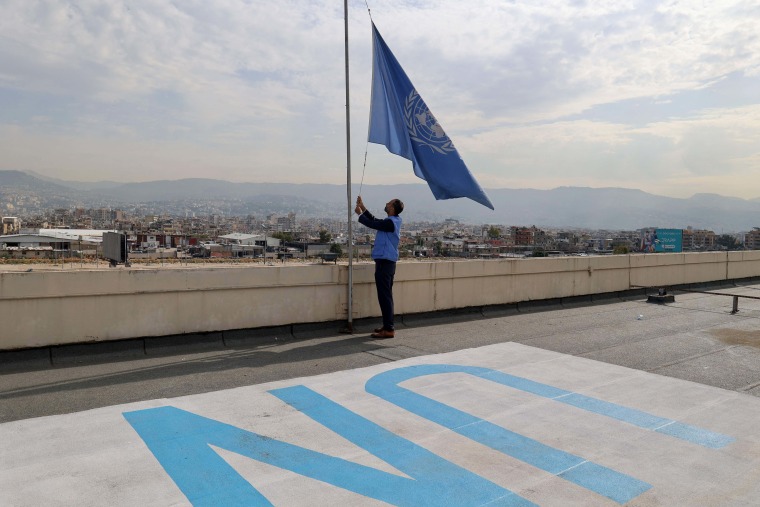 "This is the highest number of aid workers killed in the history of our organization in such a short time," said Tatiana Valovaya, director general of the United Nations office in Geneva.
U.N. agency guesthouse struck in southern Gaza
A guesthouse in Rafah belonging to the United Nations Relief and Works Agency in Gaza "sustained significant damage from Israeli Force naval strikes," it said today.
U.N. staff had left the building in southern Gaza only 90 minutes before the strike, it said, adding the agency has recorded direct and collateral damage to more than 60 of its facilities, mostly schools that have been sheltering many thousands of displaced people.
A majority of these facilities are in southern Gaza, the UNRWA said. Israel has repeatedly told Gaza residents in the north to evacuate south for their own safety, though it continues to bombard the region.
"The disregard for the protection of civilian infrastructure including UN facilities, hospitals, schools, shelters and places of worship is testament to the level of horror that civilians in Gaza are living every day," UNRWA Commissioner-General Philippe Lazzarini said in a statement.
U.S. strikes targets in Syria in retaliation for attacks on its forces
The United States conducted strikes last night against two facilities in eastern Syria used by Iranian militant groups that the U.S. says were responsible for attacks on its forces in Iraq and Syria.
"We've seen a number of attacks against our forces here in in recent past and we have said, and we will continue to say, that we will take all necessary measures to protect our troops," Defense Secretary Lloyd Austin said in a news conference.
"These attacks must stop and if they don't stop, then we won't hesitate to do what's necessary again," he added.
According to the Syrian Observatory for Human Rights, the U.S. strikes killed eight militia members, though the death toll was expected to rise, as more people were wounded. The U.S. targeted weapons and ammunition depots, the group said.
The Syrian state news agency SANA reported the militants claimed to have launched a drone that hit an American base, causing "direct casualties."
NBC News has not independently verified those reports or the death toll.
European Union calls for 'meaningful' pauses in Gaza fighting
Pauses in the fighting in Gaza have to be long enough to make a difference in improving the humanitarian situation, the European Union's commissioner for crisis management said today.
"These pauses have to be meaningful," Janez Lenarčič told reporters in Brussels. He added that the pauses need to be clearly defined and announced well in advance to enable humanitarian organizations to take full advantage of them.
"This has not been the case so far," Lenarčič said.
Israel has refused to agree to a humanitarian cease-fire, though it has offered safe evacuation routes to the southern Gaza Strip during designated daily windows and allowed four-hour pauses in fighting. That amount of time was deemed insufficient by some aid groups, however.
Israel vows to 'change security situation' in the north as conflict with Lebanon escalates
Israeli artillery is striking targets in Lebanon in response to anti-tank missiles fired from the country, the Israel Defense Forces said today. Hezbollah said in a statement that it had fired rockets at Israeli infantry and achieved "direct hits" this morning.
Clashes between the Iran-backed militant group and the IDF have continued to intensify around the Israel-Lebanon border, and at least 58 Hezbollah fighters and 10 civilians have been reported dead.
"The IDF has operational plans for changing the security situation in the north," IDF spokesperson Daniel Hagari said in a televised briefing yesterday, adding that residents in the north do not feel safe returning to their homes.
On Saturday, Israeli Defense Minister Yoav Gallant suggested that Hezbollah was dragging Lebanon into a war. "What we are doing in Gaza we can do in Beirut," he told IDF troops in the north.
Funeral for fallen soldier in Jerusalem
A family member grieves over the coffin of school principal and Sgt. Maj. Yossi Hershkovitz, who died at age 44, during his funeral in Jerusalem yesterday.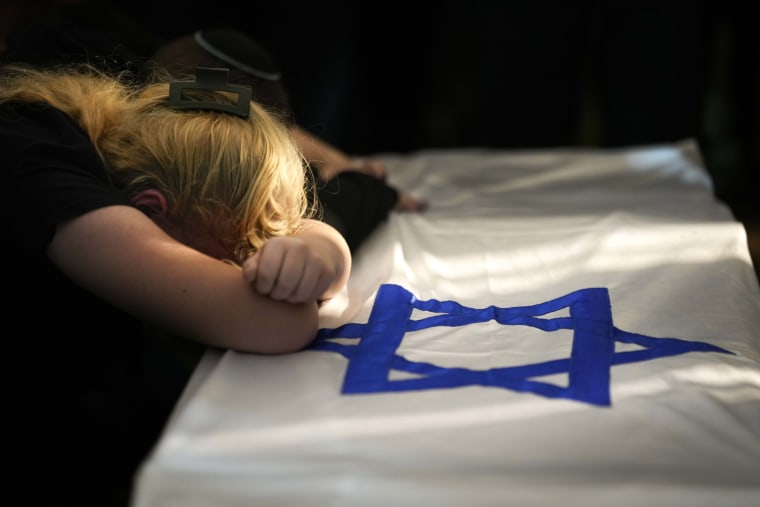 Aid organization says it's not possible to safely move babies from Al-Shifa hospital 
Babies in the neonatal unit at Al-Shifa hospital cannot be safely moved amid ongoing fighting in Gaza, the aid organization Medical Aid for Palestinians said yesterday.
Israel said over the weekend that Al-Shifa staff had requested help evacuating at-risk babies from the facility to a safer location, and the IDF later announced the opening of evacuation routes from Al-Shifa and two other hospitals.
However, Dr. Marwan Abusada, a surgeon at Al-Shifa who also the head of international cooperation at the Gaza Health Ministry, told NBC News that no evacuations had begun there.
The transfer of critically ill neonates is a "complex and technical process," Medical Aid for Palestinians said in a post on X. "With ambulances unable to reach the hospital and no hospital with capacity to receive them, there is no indication of how this can be done safely."
Doctors at Al-Shifa told NBC News that three babies died over the weekend, while 36 others are at risk of death after they had to be removed from incubators because of a lack of power.
The only safe option to save the babies, Medical Aid for Palestinians said, would be for Israel to "cease its assault and besiegement of Al-Shifa, to allow fuel to reach the hospital, and to ensure that the surviving parents of these babies can be reunited with them."
Former British PM Cameron makes surprise return as foreign minister
LONDON — David Cameron, the former prime minister who left politics after losing the Brexit referendum in 2016, has made a shocking return to the Cabinet as foreign secretary.
Prime Minister Rishi Sunak appointed Cameron this morning after firing Suella Braverman, a controversial figure on the right of the ruling Conservative Party.
Cameron, who is strongly associated with losing the campaign to keep Britain in the European Union, has vast foreign policy experience from six years in Downing Street. He will immediately turn to managing the country's response to the Israel-Hamas war.
Cameron is not a serving lawmake,r so was swiftly made a lifelong member of the House of Lords, the upper chamber of the Houses of Parliament, by King Charles.
His return is hugely unexpected and caught British politics commentators and pundits unaware.
No babies have been evacuated from Al-Shifa hospital, surgeon says
TEL AVIV — None of the 36 babies who doctors at Al-Shifa hospital say are at risk of dying were evacuated from the medical facility yesterday, a surgeon there told NBC News.
The IDF announced yesterday that it was opening an evacuation route from Al-Shifa and two other hospitals, and said that Al-Shifa staff had requested help evacuating at-risk babies from the facility.
But Dr. Marwan Abusada, a surgeon at the hospital who also the head of international cooperation at the Gaza Health Ministry, told NBC News that he is not aware of anyone coming in or out of the hospital that day.
Three babies at Al-Shifa died over the weekend, while 36 are desperately in need of care after they had to be removed from incubators because of a lack of power, Abusada said.
"If they stay here in this condition in Shifa … they are going to die," he said. "We don't want our babies to die."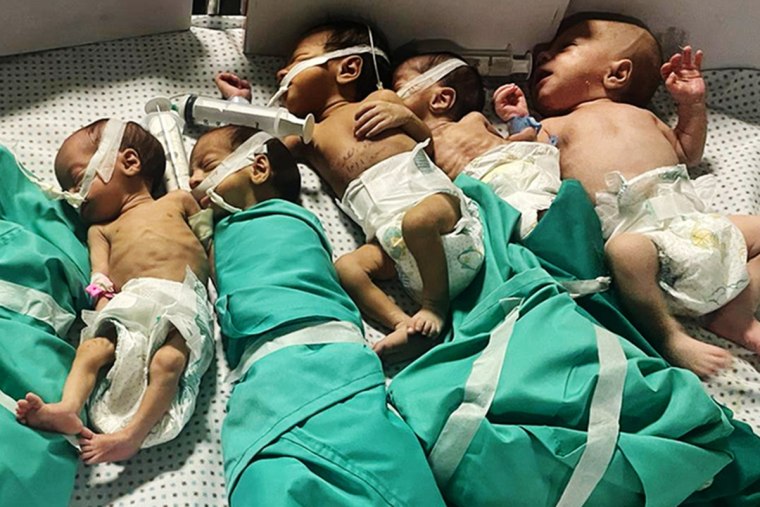 Abusada said that he was open to the infants being transported to a hospital in Egypt that could provide care and safety for them. Failing that, he said, fuel should be delivered to the hospital to keep it running — the "easy solution" compared to evacuating babies from Al-Shifa.
Asked what happened with the evacuation route, a spokesperson for the IDF did not provide a direct response, saying that there were "intense battles" in the area surrounding Al-Shifa though not at the hospital itself.
The IDF also said it tried to deliver 300 liters of fuel to the hospital.
Abusada said that would not be enough to keep the hospital running for even a day: "It does nothing. It means nothing, 300 liters of fuel. It will run our generators for just half an hour." He said the hospital needs at least 9,000 to 10,000 liters of fuel to run essential services in the hospital per day.
British PM fires senior minister for criticizing police over pro-Palestinian march
LONDON — British Prime Minister Rishi Sunak has fired the home secretary, Suella Braverman, NBC News' partner Sky News reported.
The move came after Braverman used a newspaper article to refer to pro-Palestinian demonstrators as "hate marchers" and said police were "playing favorites" by not using tougher measures against them.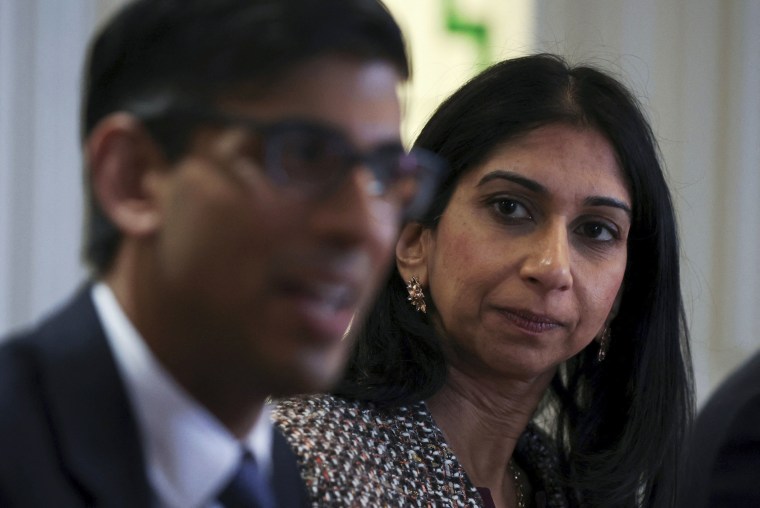 Opposition politicians and anti-extremism groups accused Braverman of firing up far-right counterprotesters who disrupted a ceremony to remember Britain's war dead Saturday, a traditional event held Nov. 11 to coincide with the end of World War I in 1918.
Police arrested 145 people Saturday and have since charged seven with public disorder, including many counterprotesters who attempted to confront the main pro-Palestinian march. Police said 300,000 people attended the march but organizers claim it was closer to 800,000.
Braverman has been a controversial figure on the far right of the ruling Conservative Party. Her flagship policy was a plan to fly unauthorized migrants to Rwanda.
Biden holds call with Qatar leader, says 3-year-old American among Hamas hostages
President Joe Biden spoke with the leader of Qatar, Sheikh Tamim bin Hamad Al Thani, yesterday to thank the country for its efforts to secure the release of Hamas hostages and its ongoing work to secure more, a readout released by the White House said.
Two American citizens have been released so far, but on the call, Biden acknowledged that a 3-year-old American, whose parents were killed by Hamas on Oct. 7, was among "many young children" still held hostage.
Hamas is believed to be holding as many as 239 people hostage inside Gaza, according to the latest numbers from Israeli officials. It's not clear how many are still alive amid the fighting. Hamas has released four hostages in total since the war began.
The two leaders agreed that all hostages must be released without further delay, according to the readout.
Al-Shifa is 'no longer functioning as a hospital,' WHO chief says
TEL AVIV — The situation at Al-Shifa hospital is "dire and perilous," with the medical facility no longer "functioning as a hospital," World Health Organization Director-General Tedros Adhanom Ghebreyesus warned.
Tedros said the WHO had managed to get in touch with health workers at the hospital and heard that the facility had gone for three days "without electricity, without water and with very poor internet, which has severely impacted our ability to provide essential care."
He said patient fatalities had increased significantly amid the spiraling humanitarian situation at the hospital, which has seen heavy bombardment and intense fighting outside the facility. "The constant gunfire and bombings in the area have exacerbated the already critical circumstances," he said in a post on X yesterday.
Calling for a cease-fire, he said: "The world cannot stand silent while hospitals, which should be safe havens, are transformed into scenes of death, devastation, and despair."
Surgery by spotlight as Gaza hospitals run out of fuel
A doctor applies stitches to the head of an injured civilian, using only the light from a cellphone, at the Indonesia Hospital outside Gaza City today.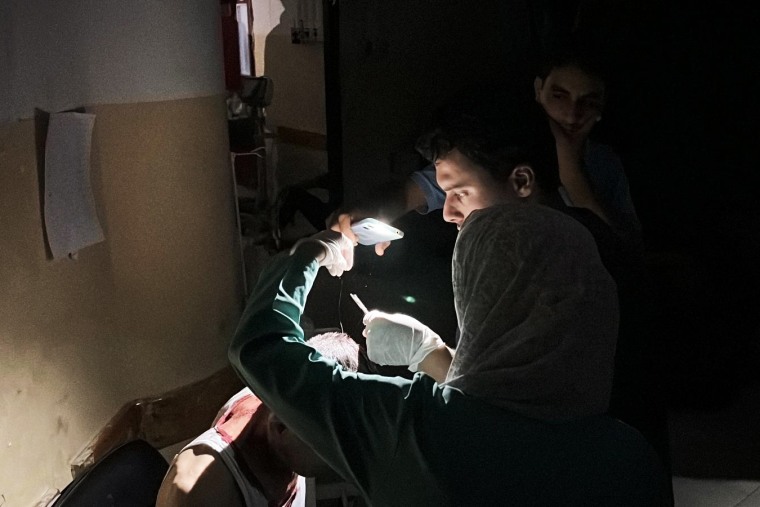 Catch up with NBC News' coverage of the Israel-Gaza war in the last 24 hours