LONDON — When electricity shortages closed the Ibrahim Malik Teaching Hospital where Dr. Mohamed Karrar worked, he packed a bag with any medical equipment and medicine he could carry.
"I posted on Twitter that I am an emergency doctor in Al Mamoura available at any time for anyone who needs me for free, along with my phone number," Karrar said.
The doctor is one of many Sudanese medical professionals working in neighborhood primary health care centers amid the ongoing conflict in Sudan, where rival forces are battling for control of the country. Cease-fire talks that could end the bloody conflict have stalled. Karrar's parents call him daily from the safety of a village in South Sudan.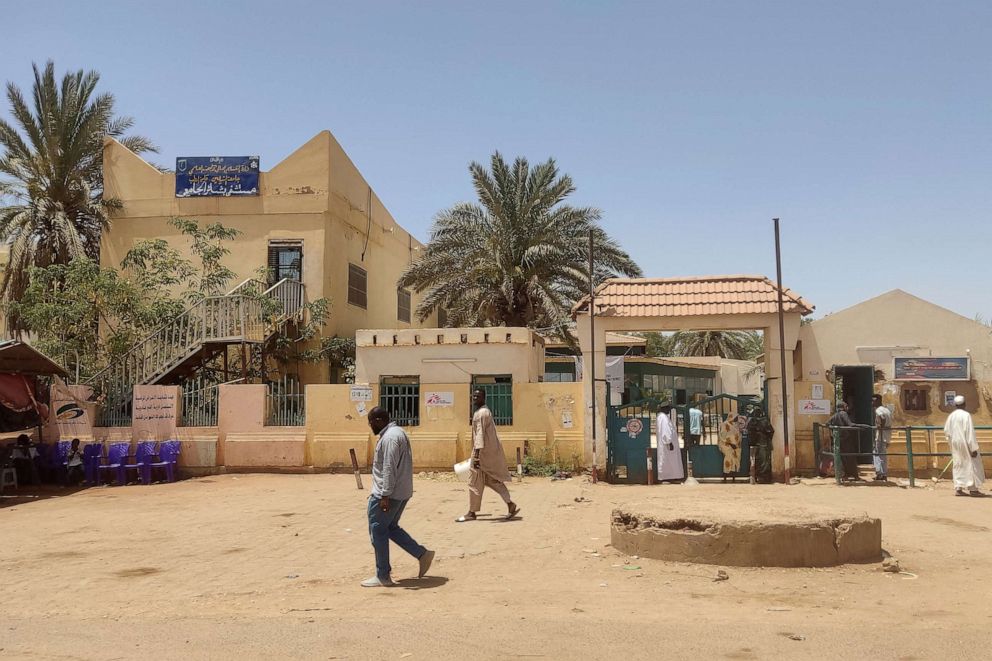 "They worry about me. But I studied for years to do this," he told ABC News. "I feel like I can't just leave those sick and wounded people to die."
Data from Sudan's Doctor's Trade Union suggests 70% of health care services are no longer functioning due to lack of supplies, personnel and access. Twenty-one hospitals have been forcibly evacuated by militants. And 17 hospitals have suffered aerial or land bombings, with nine ambulances attacked. A video filmed by an eyewitness on May 15 shows smoke billowing from the East Nile Hospital in Bahri, Khartoum.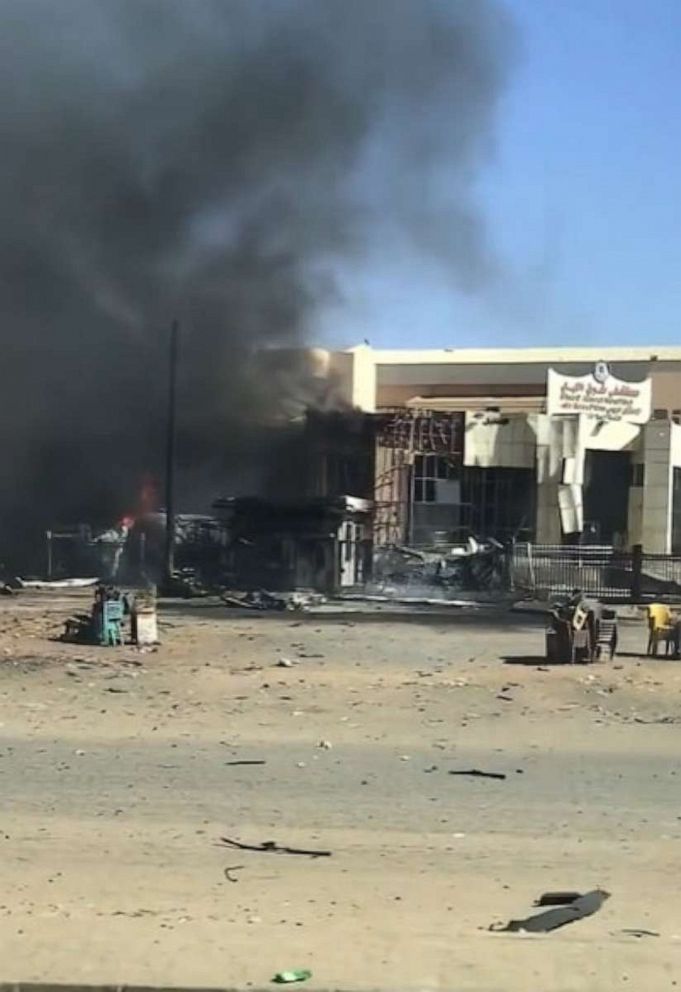 "It's no longer safe for patients or healthcare providers to reach hospitals," said Dr. Yasir Elamin, president of the Sudanese American Physicians Association, which supports health care facilities countrywide.
The number of civilian deaths has climbed to 866 with 3,721 injuries, according the union. Some died from shrapnel and bullet wounds, others had medical conditions and died as a result of not being able to access medical help, said Elamin, speaking to ABC News from Houston, Texas.
Weak health infrastructure
"Before the war, the health infrastructures were weak anyway," Elamin said. "Almost 80% of health care services in Sudan are based in Khartoum. And now Khartoum is really one of two hotspots of the war. The second being West Darfur. So paralyzing healthcare in Khartoum effectively means paralyzing healthcare in Sudan."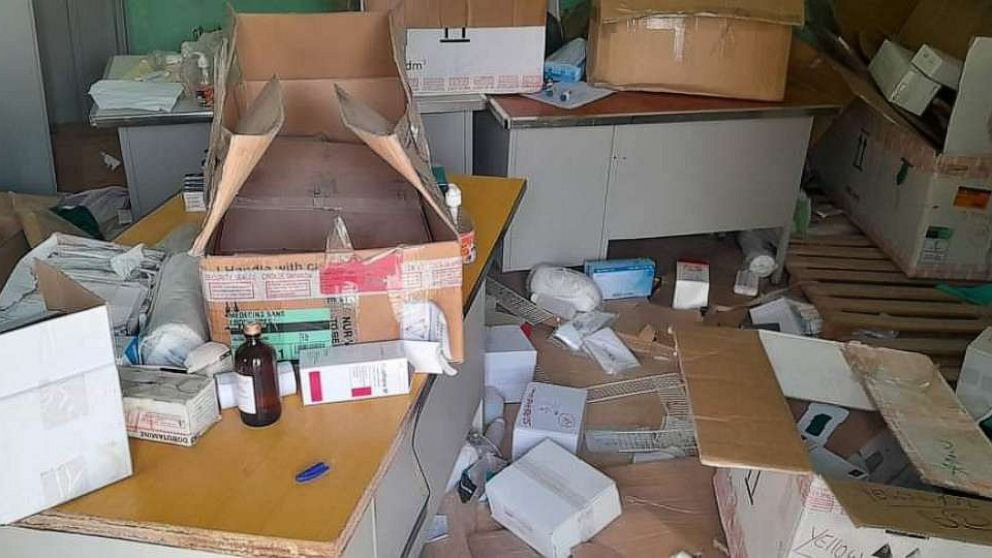 SAPA has more than 200 volunteers who provide telemedicine consultations 24 hours every day. The challenge is when you speak to people who have acute injuries from the war, because you can't just tell them to go to a hospital, Elamin said.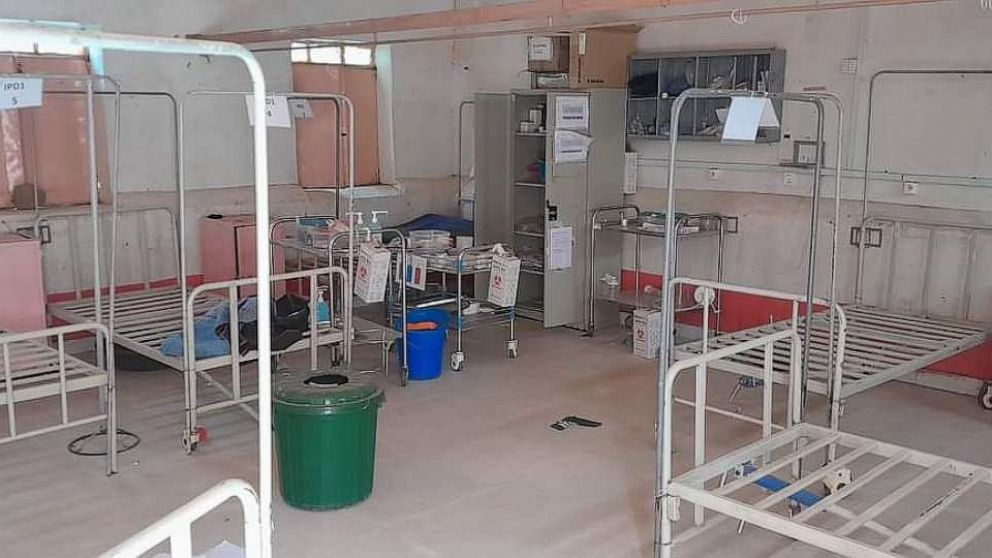 "The majority of Sudanese people wouldn't have standard access to the Internet. So the poorest people can't benefit from this service," he said.
"We know that there has been a very big disparity within the country, in terms of service provision, rural versus urban, in addition to differential access, depending on people's socioeconomic circumstances," Kate Nolan, Deputy Director of Operation Medecins San Frontieres, said.
Some of the worst of the fighting has been concentrated in impoverished West Darfur. Last week Sudan's Doctor's Union reported more than 280 civilian deaths in two days alone. MSF has been forced to seize almost all activities in the region.
Photos taken at West Darfur's Geneina Teaching Hospital, which is funded by MSF, show the aftermath of looting at the facility. Hospital beds are seen without mattresses. Cabinets have been emptied. Boxes of medicine have been combed through.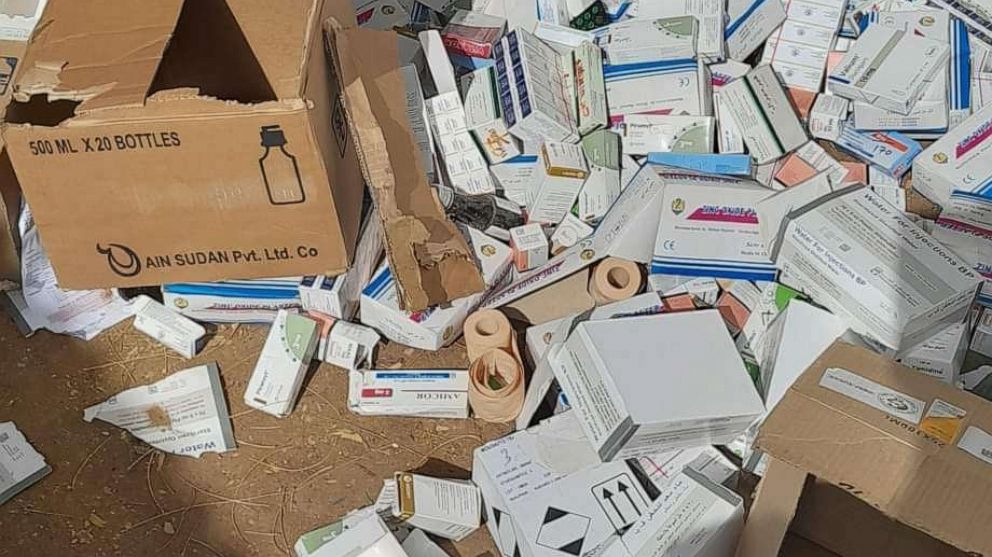 "After the looting of one of our medical warehouses in Khartoum, fridges were unplugged and medicines removed," Jean-Nicolas Armstrong Dangelser, MSF's emergency coordinator in Sudan, said in a press release. "The entire cold chain was ruined so the medicines are spoiled and can't be used to treat anyone."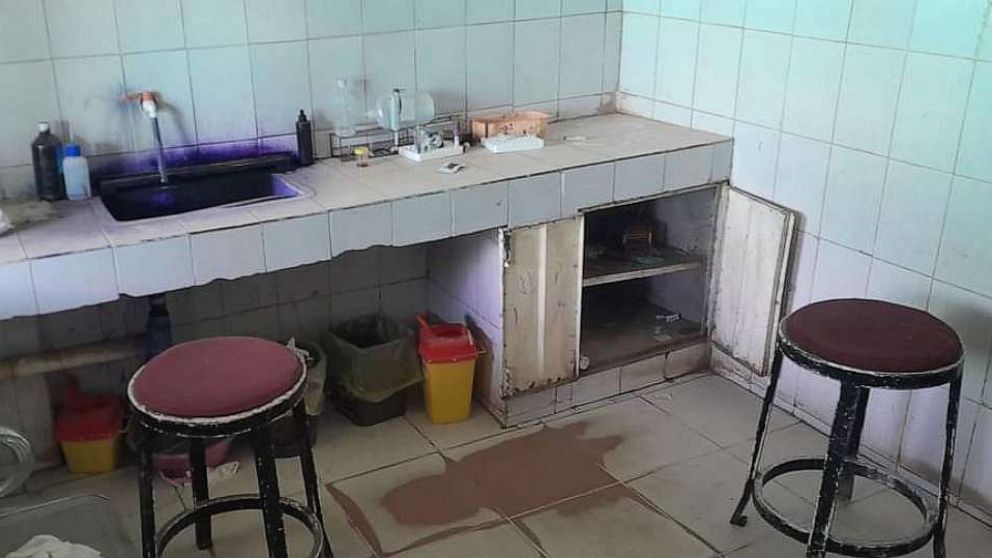 Getting aid from Port Sudan to desperate civilians in West and South Darfur will be a 'major challenge' with no clear solution, both MSF and SAPA said.
Resistance committees
A neighborhood WhatsApp group reviewed by ABC News called the "Central Emergency Room," which counts health sector workers from the Al Mamoura neighborhood as its members, is being used to share logistic and medical advice.
Elamin says the Sudanese uprising led to the growth of so-called "resistance committees" within neighborhoods. They have been playing the critical role of bolstering communication within communities.
Clinics are using social media to facilitate transporting people to hospitals, identifying patients, reuniting them with family and burying them.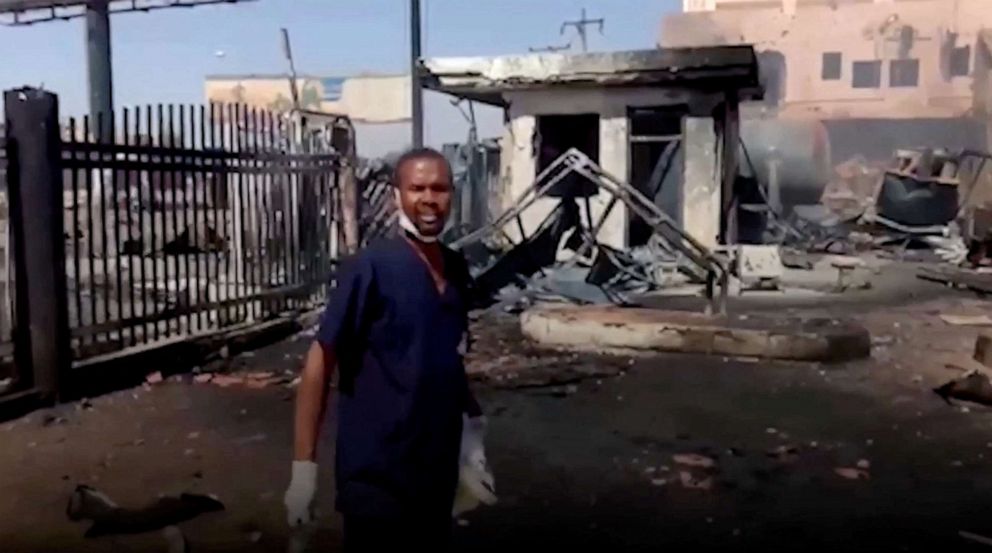 "A colleague of mine told me about his uncle who was killed alongside his son in his car. Someone took photos of them with their cell phone. The family were looking for them for almost four or five days," Elamin said.
The photos were shared online and the family were eventually able to bury the bodies, he said.
Threats to medical personnel
Whilst civilian resistance committees are plugging the gaps, every day is a struggle. Elamin said he doesn't know how long his colleagues in Sudan can continue. Intense battles have continued to rage in Khartoum in spite of repeated cease-fire declarations aimed at securing humanitarian access.
Sudan Doctor's Trade Union condemned a "series of assaults on facilities, medical personnel and civilian volunteers" in their latest situation report.
"I am worried someone will find out I am a doctor", says Dr. Noah Madni, who is unable to travel to his place of work, the Elrazi hospital, located in an embattled area of Khartoum, "I hear that one of my friends was at the Elrazi and the RSF came and forced them to treat them. Now we have no contact."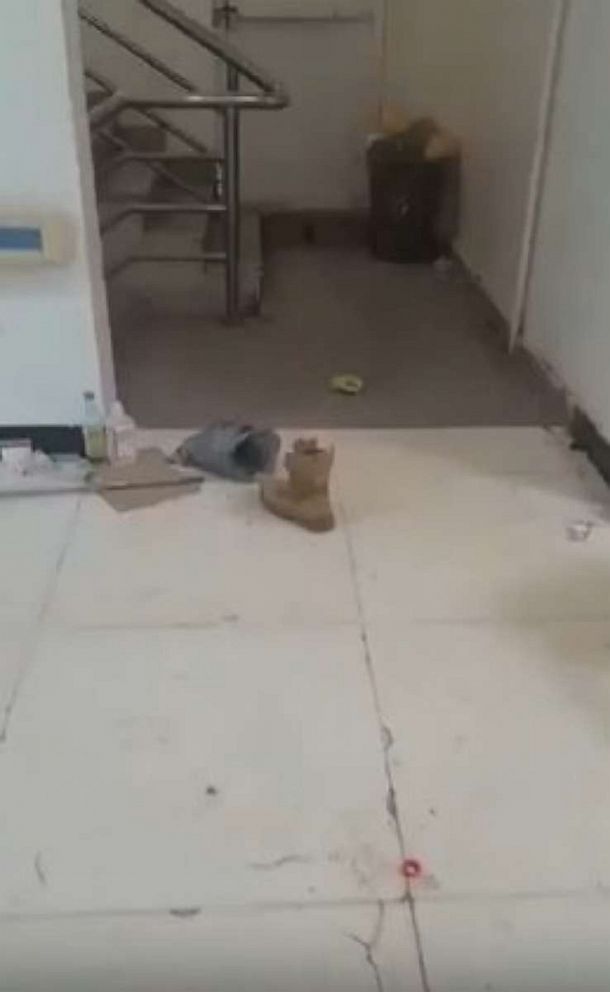 This is a sentiment echoed by several physicians ABC News spoke with in Sudan. They said they hide their IDs and monitor entrances to hospitals.
In a graphic video seen by ABC News, Karrar, a primary care doctor, filmed the inside of the abandoned Alraqi hospital in Khartoum. The video from April 21 shows military boots and blood stains inside the evacuated facility. Service at the hospital is still suspended.
"When we arrived, it was empty and there was blood on the floor in the emergency room, corpses belonging to soldiers and civilians lying on the ground and on trolleys," Karrar said. He was told by staff that it had been taken over by soldiers from the Rapid Support Forces, one of two rival factions fighting for control of Sudan. Doctors were made to treat injured soldiers by force, Karrar said.
"Every day we live out the worst days of our lives," Madni said. "We see death in front of our eyes. Our families are terrified."
ABC News' Ayat Al-Tawy contributed to this report.