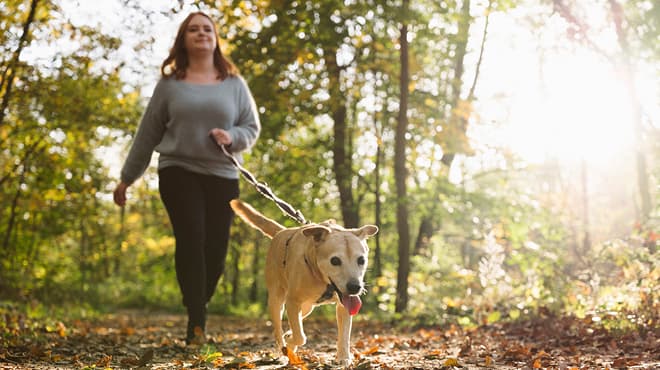 How often have you planned a new exercise routine? Each year, millions of people set resolutions to exercise more, driven by goals of improving their health, losing weight, keeping up with friends or kids, or maybe even addressing a new diagnosis. This often leads to complicated regimens, expensive equipment that ends up working better as a clothes rack — yes, I'm talking about that treadmill — or elaborate exercises.
In reality, the best exercise is any exercise that's easily accessible, adaptable and something that you enjoy. Walking typically is the most accessible exercise and has multiple health benefits. But if dancing, kayaking or playing sports gives you more joy, then those are a better fit for you. The most important thing is being consistently active.
Why walking could work for you
Walking is a gentle, low-impact cardio exercise that can ease you into a higher level of fitness and health. It's safe and simple. Regular brisk walking can provide many of the same benefits as more vigorous exercises, such as jogging. For example, just 21 minutes of walking a day can reduce your risk of heart attack by 30%. Walking burns calories and trims the waistline, but it's also important for your lymphatic and immune systems.
Walking for fitness can help you:
Control your blood pressure.
Lose or maintain weight.
Improve balance and coordination.
Increase core strength.
Manage stress and improve mood by releasing endorphins.
Manage your diabetes.
Reduce the risk of a heart attack.
Reduce the risk of developing Type 2 diabetes.
Stay strong and active.
Walking also has been shown to:
Improve sleep.
Slow mental decline.
Lower the risk of dementia.
Reduce the risk of some cancers.
Help you lead a longer life.
Maintain independent living into older age.
According to some estimates, it could save Americans over $100 billion per year in healthcare costs. On a community level, it's been shown that more people walking lowers crime rates and improves the local economy.
Tips for starting a walking routine
Try these five tips to begin walking:
Start slowly.
If you've been inactive, then start gently with five to 10 minutes at a steady pace, and build up your time and distance over a couple of weeks to months.
Set goals.
Set realistic goals for yourself, such as 20 to 40 minutes of walking five days a week.
Adjust your plan.
If you're taking a trip or working overtime, think of ways to incorporate short walks into your day to keep your plan on track.
Don't let the weather get you down.
If the weather isn't optimal, consider walking indoors, such as at local malls, exercise facilities and community centers.
Plan several different routes.
To keep you from getting bored, create several routes to choose from to add variety to your walking.
Once you take that first step, you'll be on your way to an important destination: better health.
Tips to improve or maintain your walking routine
Already started? Fantastic. You've built walking into your regular routine.
To maintain or take this healthy habit to the next level, try these tips:
Walk with family or friends.
Invite others. Not only will they help keep you accountable, but they'll also reap the benefits of a walking program. No humans available? Bring the dog or cat.
Be consistent.
To help your walk become a habit, build it into your daily routine. Maybe it becomes part of your lunch break or something to do after dinner. Add your walk to your calendar, just as you do with other appointments. There will be days when you may need to adjust your walking schedule, but keep it as consistent as possible.
Spice it up.
Now comes the fun part of a walking program. Add small challenges to your routes or try some of these ideas:

Add a workout section with a set of lunges, squats or push-ups.
Create a walking bingo game or mentally play the alphabet game by finding something along your route that begins with A, B, C.
Walk like other animals.
Try a new route to vary your scenery, as well as level of difficulty.
Walk on grass or a dirt or gravel path instead of concrete.
Vary your pace by speed-walking for short distances.
Up the ante with resistance bands or weights.
Listen to music, a podcast or guided meditation.

Fuel your body and stay hydrated.
You don't need to go on a special diet. Instead, pay attention to how your body reacts to what, when and how much you eat. Be mindful of hydration and how your body responds. Small changes can make a world of difference.
Embrace apps or leave technology at home.
Your smartwatch may have started out as an accountability partner, pushing you to start that next walk. But wearable technology also can provide virtual badges as you reach certain goals, let you walk virtually with friends and even incorporate mindfulness. Or try a walk without technology. Listen to the sounds around you. Feel the cool breeze on your face. Take some time for just you.
Learn more about walking for health:
Mickey McDonough, M.D., sees patients in Family Medicine in Fairmont, Minnesota.