Intermountain Cedar City Hospital officials held a ribbon-cutting ceremony on Wednesday as they begin use of a GI Genius unit at the hospital. The tool uses artificial intelligence to help doctors identify polyps during a colonoscopy and catch cancerous ones sooner. (Intermountain Healthcare)
Estimated read time: 2-3 minutes
CEDAR CITY — Intermountain Healthcare will soon be using artificial intelligence tools to enhance colonoscopies and better prevent colon cancer at four rural Utah hospitals.
This cutting-edge technology, aptly named the GI Genius, will help doctors improve colon polyp detection and more quickly remove pre-cancerous colon polyps. Hospitals that will have the new technology include Intermountain Cedar City Hospital, Intermountain Fillmore Hospital, Intermountain Delta Community Hospital and Intermountain Heber Valley Hospital.
"We are extremely fortunate to be among the first hospitals in Utah to have this advanced screening capability," said Eric Packer, administrator at Intermountain's Cedar City Hospital. "The best part is knowing our patients will now benefit from this important cancer screening advancement. This is another example of how we are striving to serve our community with the latest in health care technology."
A ribbon-cutting for the new unit was held at Cedar City Hospital on Wednesday and will happen at the other hospitals over the next few weeks as doctors are trained on using the device.
Medtronic, which distributes GI Genius, the American Society for Gastrointestinal Endoscopy and Amazon Web Services are responsible for bringing this technology to the rural areas of Utah through Medtronic's Health Equity Assistance Program. Across the United States, this program is providing 133 GI Genius units at 62 different medical facilities.
Use of the artificial intelligence technology will not add an additional cost to patients.
The GI Genius module's artificial intelligence was trained on over 13 million images of polyps. Using the tool in trials, physicians were able to increase lesion detection by up to 46%, according to Medtronic.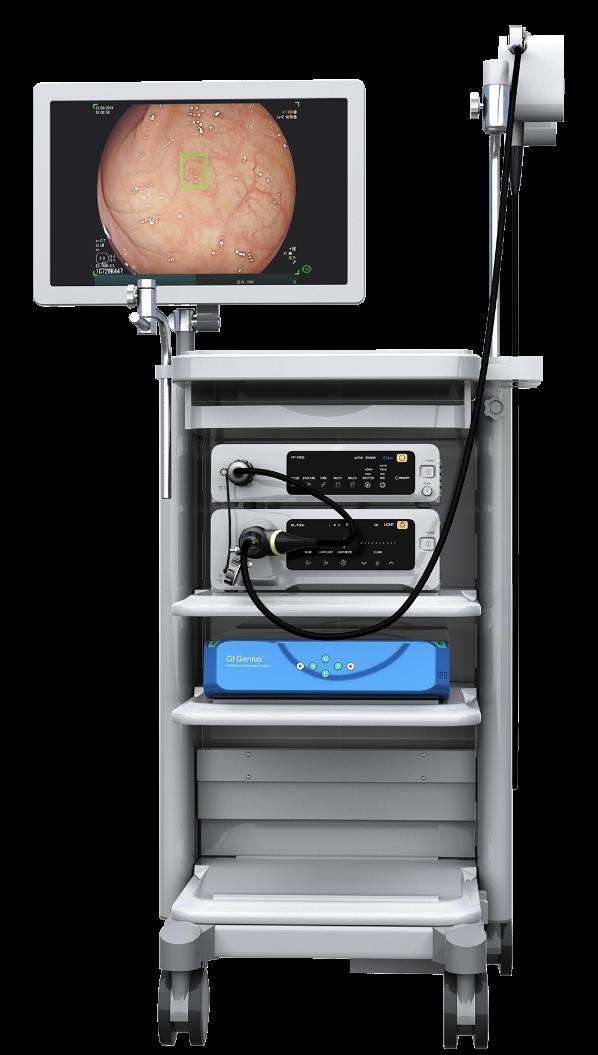 Giovanni Di Napoli, president of gastrointestinal business at Medtronic, said he is excited to see how the technology, paired with Intermountain Healthcare, can improve polyps detection in the four rural Utah communities.
"We are committed to helping reduce inequities and ensuring access to life-transforming therapies with the utilization of AI technology," Napoli said.
Dr. Nathan A. Merriman, medical director of gastroenterology and digestive health at Intermountain Healthcare, said he sees artificial intelligence as a potential aid for all Intermountain doctors performing colonoscopies.
"By offering this cutting-edge, high-definition technology to our rural Utah communities, we have the potential to detect more colorectal polyps and potentially prevent cancer," Merriman said.
It is recommended that people begin screening for colon cancer at 45 years old. Intermountain said colorectal cancer is the second-deadliest cancer for both men and women, causing an estimated 50,000 deaths in the United States each year.
"We know that missing colorectal polyps could potentially increase the risk of interval colon cancers that occur prior to the next routine exam. … By improving our ability to see and remove more of these polyps, we create more positive impact with greater colon cancer prevention for patients and their families," Merriman said.
×
Photos
Related stories
Most recent Health stories
More stories you may be interested in